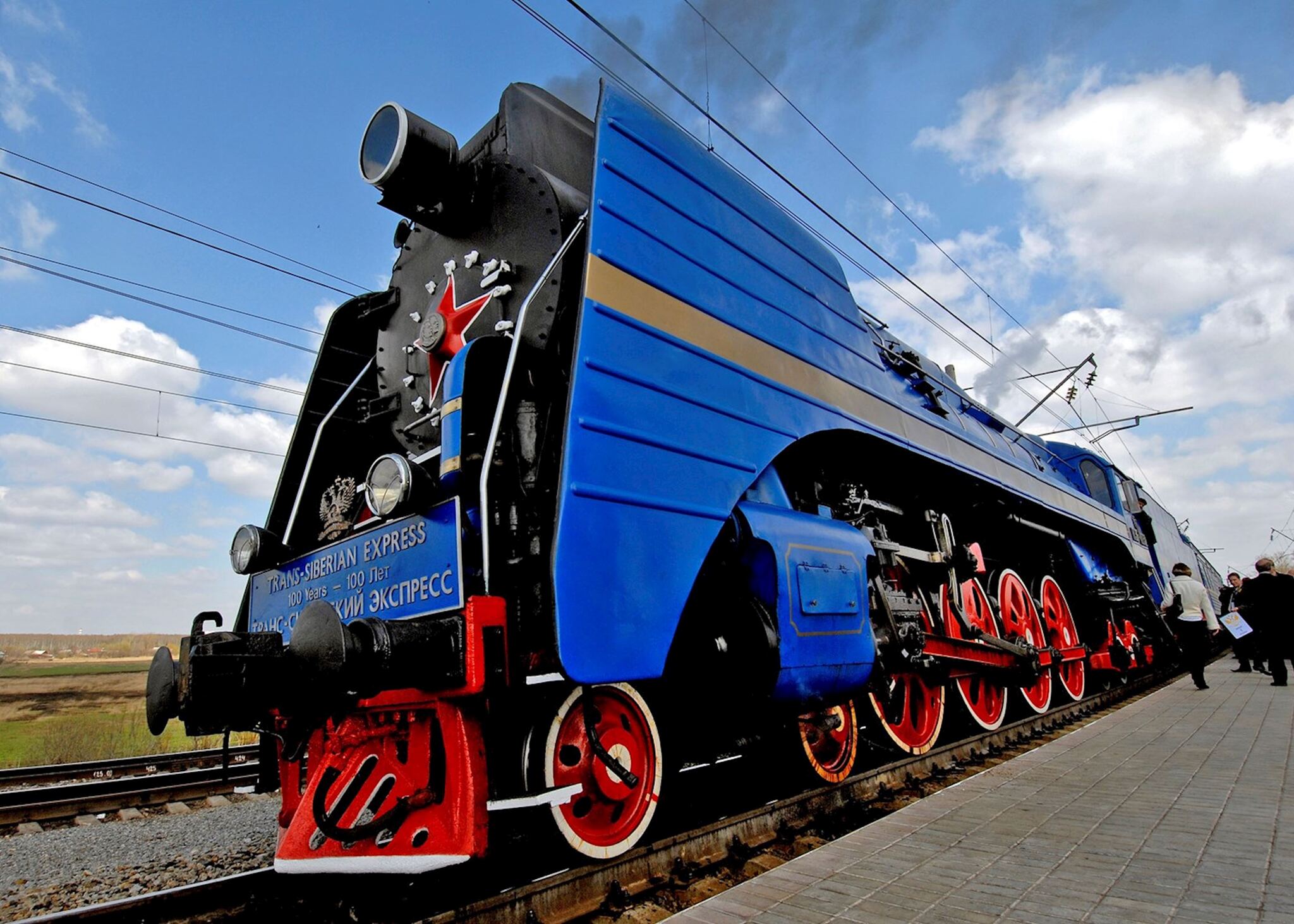 Top 10 Visited Trains in the World
Venice Simplon-Orient-Express

The Venice Simplon-Orient-Express travels across Europe and is quite sophisticated while also providing comfort. As one of the world's most celebrated trains, these classic midnight blue carriages, inspired by Dining Car 4141, the Venice Simplon-Orient-Express allows passengers to feel as though they are in the bygone era across Europe. This train encompasses class, glamor, delicious cuisine, and features personal service that you will never forget.

Looking back in time, the Orient-Express can be traced back to October 4, 1883 where it traveled a long journey from Paris to Guirigi, Romania, while also passing through major cities including Vienna, Budapest, Strasbourg, and Bucharest. This impressive train was bombed, shot at, and marooned in snow drifts. These trains have individual histories and characteristics after being on different journeys across Europe while being operated by well-known railway companies. Each train had their own unique identifying number from its previous incarnation that could date back pretty far, such as the Dining Car 4141 previously originally being a first-class Pullman. Who would have guessed?

The Ghan

Time to go down under and take a journey through the heart of Australia! Passengers take a 969 mile trip from Adelaide to Alice Springs, and if they would like even more adventure, they can travel 822 miles more to Darwin. On the way, passengers are able to visit the Great Victoria Desert, Macdonnell Ranges, as well as sheep and cattle stations. As the journey continues, passengers will see change in scenery to more mountainous views. So, sit back and relax in your reclining seat, have a delicious meal, and enjoy the ride.
The Blue Train

Traveling 994 miles from Cape Town to Johannesburg in 24 hours, the Blue Train is famous for their frequent trips. The Blue Train makes this route three times a week during the summer (high season) and then once a week, each way, during the off-season. During this long journey, this train travels up to 68 miles per hour which allows a smooth and slow journey so that you can enjoy the breathtaking views.

The Blue Train has deluxe suites with lounges and a full-tub bathroom - yes please! - or luxury suites that have a private shower and toilet. Because they are so luxurious, only four suites are in each carriage.
The boarding is not the only benefit when riding this train. The food and service is exquisite and when you first board, you will have some champagne on ice waiting for you in your very own compartment. Cheers!

Royal Scotsman

Somebody unroll the red carpet, because that's exactly what guests can expect when boarding the Royal Scotsman - royalty at its finest. Now, only 36 passengers can board the train at a time, though royalty rights continue when you enter the main lounge in the observation car for a classy champagne toast. The Royal Scotman can depart from London or Edinburgh for a tour, lasting a duration of one or seven days, across England's west county. Some of these destinations include Scotland's highlands and other specialty destinations. There is an included itinerary with an accompanied guidebook in each compartment to help travelers plan out their trip. Some festivities may include visits to castles, museums, homes, gardens, or even some golf courses if you're up for tee time!

If you're looking for a place to spend some leisure time, the 1908 observation car is breathtaking, including plush armchairs and sofas. You will also be able to stay up to date with the outside world with newspapers being abroad daily. As the day moves into night, guests can join in on having cocktails and hors d'oeuvres before making their way to the dining car or finding themselves at a classical musical performance. Make sure to dress to the nines in either black tie or black suit attire for dinner. Prepare to feast on a four-star meal with fresh ingredients that are purchased while on the route to the next destination. Not to mention, you can have a premium glass of wine in addition to dinner; can't forget that!

Trans-Siberian Express

The Trans-Siberian Express makes the world's longest train route that stretches across Russia! Traveling more than 5,625 miles on its journey, this route offers incredible diversity of views and allows passengers to get an idea of other cultures while crossing through the Ural Mountains. Passengers can enjoy this six day trip on the Trains-Siberian railway.
Al Andalus Express

Now here is a relaxing transportation route to sightsee and explore the Andaludian region in southern Spain. This train includes five luxury cars that were French built in 1929 in order to escort the King of England on his route to the French Riviera. There are two unique bathing cars that scream luxury. After each passenger, the rooms are cleaned and the guests are given slippers and a robe… sounds ok we suppose.

The Al Andalus Express offers a beautiful seven-day round-trip journey that usually travels in the morning, from Madrid or Seville, so that passengers are able to explore destinations during the day and a restful sleep at night. The train has its vintage mahogany-paneled compartments restored and can accommodate 80 passengers.

There are some amazing destinations that this journey offers including Spain's oldest bullring in Ronda, the Alhambra in Granada, a giant mosque that has been turned into a cathedral in Cordoba, the eighth century Mezquita, sherry cellars in Jerez, and many more impressive sights and cities.
The journey takes you to some popular destinations with a lot of foot traffic, and that is why the train runs during the spring and fall months so that these areas are less crowded. And since we are in Spain, this luxurious train offers air conditioning while on board!

The Rocky Mountaineer

The sun is up, so get a move on! The Rocky Mountaineer is a daylight-only rail that tours through the Candian Rockies and showcases amazing views! This all-inclusive train travels from Vancouver and has two different end destinations of Banff or Jasper. This train boards around 500 passengers from mid-April to mid-October, as well as December. Passengers have the opportunity to explore national parks and get to stay overnight in a mining town called Kamloops. Guests get wined and dined while staying at a hotel before they split up to their final destinations. Sounds pretty great, aye?
The Royal Canadian Pacific

All aboard! The Royal Canadia Pacific was introduced in 2000 and is North America's finest touring train! This train boards a limited number of passengers, 23 to be specific, and takes them on a 635 mile six-day journey through the Canadian Rockies. This train departs from Calgary and travels to beautiful locations such as Emerald Lake in Yoho National Park and Fort Steele.

This luxury train is made up of five walnut and mahogany paneled carriages that are restored business cars from the 1940s. Some benefits of boarding this train is the "Mount Stephan" social club on the train with a reading room that was once used as a smoking room by Winston Churchill! Not to mention there is also the "Royal Wentworth" which was a pretty big deal because it served as part of Queen Elizabeth's and King George VI's royal train.

Indian Pacific

Get ready for an exciting journey in first class. This route through Australia and the Pacific runs twice weekly. The Indian Pacific travels between Perth and Sydney and covers more than 2700 miles. 300 meters of this route is traveled across the longest straight track in the world! After 3 nights of travel, you will be able to witness amazing views and check off riding along the Nullarbor Plain off of your bucket list.
Maharajas Express

This custom built train is one of the most luxurious trains in India! It may even be the most luxurious train in the world. With its large windows, LCD TVs, wi-fi, individual temperature controls, as well as full en-suite bathrooms, you will feel highly pampered. Not too shabby, right?
Not only does this train include quality features, but guests have the opportunity to stay in the Presidential Suite. This isn't just any suite, but the Presidential Suite is an entire train car! This is also the largest suite available on any train in the entire world! No need to worry about any personal space here.

In addition to this impressive suite car, there are 2 dining cars, 2 lounge cars for drinking and seating, and in total with other passenger cars is 22 cars in length! Now, this seems like a lot of room, but the Maharajas Express carries a maximum of 84 passengers. Make sure you are one of those 84, or even better, get yourself the Presidential Suite treatment! The views aren't too bad along the way either; so, what are you waiting for?