Created by train enthusiasts, for train enthusiasts, Trainz has been breathing life into the model train hobby for more than two decades.
We believe that hobbies are far more than pastimes—rather, they are our passions and extensions of our character. We share your love of trains, and accordingly, our relationship with our customers goes beyond a simple transaction. We take pride in our personable buying practice, and loyal repeat customers make up most of our business.
We are the largest buyer of collectible model trains in North America, and we purchase trains from sellers across the continent. Over the years we have acquired from private sellers many thousands of collections, each ranging from just a few items to impressive deals worth over a million dollars.
Trainz is a one-stop-shop for buying and selling model trains. In addition to selling on eBay we run thousands of auctions per month on our private label auction site TrainzAuctions.com, for which we have developed an audience of over 60,000 train enthusiasts. We also list approximately 100,000 brand new train and hobby products on our Trainz.com store, and as champions of the model railroading hobby we also sell a huge selection of train parts and operate a train service center.
If you have a train collection that you'd like to sell, we've made it super easy to do so.
The Humble Beginning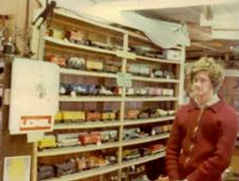 Scott and Milinda Griggs' dreams of being at the center of the Model Railroading hobby has been on track for more than 30 years.
Scott has been a train enthusiast since he was 8 years old, when his father brought home several trains and set them up in the family basement—several types of Lionel trains and tracks. By age 18, Scott's train business occupied most of his father's two car garage, lining the walls with train-related equipment. He operated a model train repair shop and store, attended train shows, as well as ran classified ads to buy trains.
Right after college, Scott married Milinda and worked at a GE locomotive plant in Erie, Pa. Their passion for trains grew, converting their spare bedroom into a workshop. The young couple then moved to Cincinnati, Louisville, and back to Cincinnati before settling in Atlanta, where they began to lay the groundwork for their Model Railroading vision.
All Aboard for Growth!
By the mid-1990s, Scott and Milinda operated 2 train stores in the Atlanta metro area, generating annual revenues of around $1 million. Though the business experienced growth, it also faced turbulent times, yet the Griggs' commitment to serving train enthusiasts continued to fuel their drive.
In the early 2000s, the Griggs began to leverage eBay for their train transactions—which turned out to be a smart decision. In April 2007, they purchased a 10,000-sq.-ft. facility with another 3,000 square feet next door, hired more full-time employees and the business expanded dramatically.
Today, Trainz boasts a talented, top-notch team and a best-in-class digital presence, with an online retail marketplace and model train auction service as well as service and collectible train buying operations. Our passion for this unique hobby is transforming model train buying and selling, expanding our market share and connecting train enthusiasts across the globe.