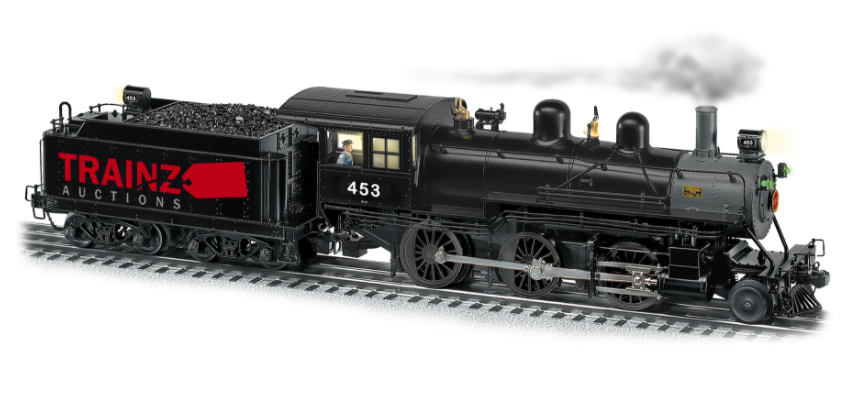 Some collectors would rather sell their trains themselves in order to receive full market value for their train collection rather than getting wholesale prices by selling to a train dealer. If you decide to sell your trains yourself, doing so on an online marketplace such as TrainzAuctions.com can make a lot of sense assuming that you are willing to put in the work.
Train Auctions is a valuable multi-purpose website for use by any train collector. On TrainzAuctions.com you can track and organize your collection. Quickly document everything in your collection by selecting the items you own from our extensive catalog. You can even add photos, descriptions and item details. TrainzAuctions.com allows you to connect with a growing community of 25,453 users! Our website allows you to browse top collector showcases, read their stories and marvel at their photos and videos, then leave comments to let them know your opinion. This site is not only a helpful way to catalogue and obtain model train information, but it is also a convenient way to buy and sell trains. Browse our vast selection on the marketplace of model trains by scale as fixed price and auctions. All of the items you buy will be automatically added to your collection. You can even receive a notification when items from your wanted list become available for sale.
Why use TrainzAuctions?
Selling trains in person typically requires a large amount of time and money. The expense of traveling and paying show fees can cost well into the thousands of dollars. Utilizing TrainsAuction as a selling platform is a huge financial advantage for sellers. When you list an item on TrainzAuctions.com you will receive as much as 94% of the selling price, compare this to other marketplace sites such as eBay which leaves the seller with only 86 - 80% of the selling price. TrainzAuctions.com only changes a small fee of 7.95% of the selling price to list these items online. However, if you are a TrainAuction Power Seller you are only charged 5.95% of the selling price. For a more comparative look at selling your trains, please refer to this Guide.
What are its benefits?
Besides the financial incentive there are several other reasons to contemplate utilizing TrainzAuctions.com as a way to sell your trains. These benefits include, but are not limited to:
Our gauge specific auctions provide a narrower focus for our buyers. Combined with our regular auction schedule we only ask for two hours of the bidder's time. Bidding doesn't become a week-long investment.
Buyers are never outbid in the final seconds of an auction. Last second bids (often called "sniping") are great for snipers, but ruin the auction experience for everyone else. When someone bids within the final seconds of an auction we automatically extend the auction to give the original bidder a chance to increase their bid, and this can benefit you the seller by increasing the sales price.
We protect prices by starting items at around 75% of the price we expect to realize based on our sales history, and only reduce this when items fail to sell multiple times, protecting your margins.
Targeted E-mail notifications are sent to over 60,000 potential bidders every week.
TrainzAuctions.com partners with MTH and the Train Collectors Association, adding even more visibility to our auctions.
TrainzAuctions.com works hard to provide a simple buying experience, without the complexity and rules of some other auction sites.
Is it hard to sell on TrainzAuctions?
No! Selling on TrainzAucitons is as simple as registering and listing an item.
The first step in selling your trains on the TrainzAuctions.com site is registration. Registration is easy and only takes a few moments. See below for a screen shot of the Registration screen.

Once you are logged in and registered online, the second step is to complete the Sell Page. This page is where you will provide information about the item that you are listing for sale. Please keep in mind the more information you convey about the item for sale on the Sell Page the more incentive a potential buyer has to purchase the item.
Tips for Completing Field Categories
Not all fields are required however, it is highly recommended to provide as much information as possible. The following fields are found on the Sell Page:
Item Name - (required) - The Item Name is to help the buyer identify the item(s) you are selling. It is NOT intended to be where you "sell" the item, and "sales language" in the item name can turn off buyers. We use the following formula in defining item names: [Manufacturer] [Model Number] [Road Name] [Scale (if needed)] [Type of Car] [General Type of Car] [# Road Number] [- Variation (if needed)]. Items named with this formula do better in internet search results, in addition to being logical and easy to understand for buyers. Item names are limited to 200 characters, and we recommend that you DO NOT USE ALL UPPERCASE in your listing title.
Trainz Auction ID - (not required) - All items in the Catalog have a unique ID number, such as MT-0974543. If you look up the Trainz Auctions ID of the item you are selling and enter it here, then your listing will automatically inherit the Catalogs item name, categorization and photos. Additionally, when your item is purchased, it will automatically be added to the buyer's online collection. This is an important feature for users, and can make your listing stand out.
Category - (not required, but highly recommended) - To make it easier for interested buyers to find your listing, use the Trainz Auctions Categories to help sort your item into the right area of interest. If you are selling a modern era HO Steam Locomotive, you should pick the HO Modern first-level category and the Steam Loco second category.
Item Description - (not required, but highly recommended) - Here is your chance to really explain to someone all about the item you are selling. The more detail you put in the description, the better. Buyers are especially keen on the condition of the item you are selling. Where is it worn? How much has the item been used? What is the condition of the packaging? Are there any special considerations about this item, such as limited run, accessories missing, instruction manuals available, etc.
Condition - (not required, but highly recommended) - This is a quick way for a buyer to know what you are selling. Your choices are: New (never been used), Used (been run and/or handled), or Refurbished (been repaired or touched up).
Item Grade - (not required, but highly recommended) - we recommend the TCA Item Grading definitions. This provides buyers with a "short-hand" way of knowing the overall condition of the item.
Box - (not required, but highly recommended) - This is especially important to note, since some buyers are looking only for Boxed items. If you are including all of the original box with this item, check that your item is Boxed.
Box Grade - (not required, but highly recommended) -& we recommend the TCA Item Grading definitions. This provides buyers with a "short-hand" way of knowing the overall condition of the item's packaging.
MPN (Manufacturer's Part Number),
SHORT DESCRIPTION, SKU (Stock Keeping Unit), PRODUCT ID, and UPC (Universal Product Code) are all optional fields and are generally only used by dealers. However, if you can fill in any of these fields, it may help search engines find your listing.
Media
After the above fields have been completed, photos can then be added of the item. This Media option is important since it provides the potential buyer with an in depth look at the item being listed. The Media Option is located below the Item Info. The maximum number of photos allowed to be uploaded is twelve. The Default Image is the picture that will be shown by default to all buyers. All listings are REQUIRED to have a default image. All photos must be in JPG or PNG format and photos can be no more than 500Kb in size. It is highly recommended to use a high resolution digital camera, or late-model smartphone (at least 4 megapixels). Well-lit photos with a white or light gray background work the best. Showing all sides of the item you are selling is recommended. Additionally, if you are selling an item with a notable defect or blemish, we recommend that you zoom in on the blemish or scratch so that the buyer knows exactly what they are buying. Good photos are the best way to remove a buyer's questions about your item and encourage them to buy or bid on your item.
Set Your Price: Auction vs. Fixed Price
Now that the item description has been filled out and the photos added there are only a few more steps left to take care of before the item can be listed online. You are now ready to define which type of listing you want and set your price. There are two main ways to sell an item - auction or fixed price.
Fixed Price Listing
The simplest type of listing is a fixed price listing. If you know the value of the item you have for sale you can list it with a fixed price. However, this type of listing is inflexible and does not allow the opportunity to earn more than expected as might happen in an auction type listing. The upside is that there is no ambiguity on the final selling price of your item.
Auction Listing
An auction is a great way to engage buyers, and quickly sell an item. An auction is highly recommended if you don't know the precise value of your item, or if you would like your item to be sold as quickly as possible.
When listing an item to be sold at auction there are a few things to note:
Start Price - A start price will be required for an auctioned item. This price is the bid amount that will first be accepted. Keep in mind the lower the start price the more opportunity buyers will have to engage in bidding. With the exception of the reserve (see below), as a seller, you are committing to sell the item to the highest bidder in an auction. Think carefully about your Start Price. All auctions carry an 18% Buyer's Premium which is paid to the seller, so you should calculate that into your starting price. For example, while you hope your item will sell for at least $50, you would accept a price of $40 for the item. In this case, you should set your Start Price at $35. In the event you get only one bidder, you will still receive more than $40 in total and you have minimized your Start Price which encourages bidding. If you are confident that your item will receive multiple bidders, you should consider an even lower Start Price (some multi-hundred dollar items have a starting price of $0.99 to signal to the buyers that you are serious about selling the item!).

Reserve Price - In some situations, while you might not know how much your item will fetch in an auction, under no circumstances are you willing to sell it below a certain amount. This amount is your reserve amount. If the final bid is below your reserve, you are under no obligation to sell your item at the close of your auction. During the auction, bidders see that the item for sale has a reserve amount and whether or not this minimum amount has been exceeded. Until your reserve amount is met, bidders will see "Reserve has not been met". If you do not set a reserve, bidders see "No reserve" on your listing. Generally, auctions with reserves get less attention from bidders than auctions without a reserve. Therefore, consider using a higher Start Price and no reserve in most situations. However, with the exception of declaring a reserve, sellers commit to honoring the sale of their item to the highest bidder in the auction regardless of the final price.
Buy Now Price - Sellers can define a "Buy Now" price that any buyer can opt to pay, thereby ending the auction before the closing time and buying the item at that price. In the example above, you might have chosen to use a Start Price of $35, hoping for at least $50. However, if anyone is willing to pay $60, you would be willing to make the sale now at that price (and therefore eliminating the chance that bidding closes at $70) but shortening the selling process.
Finishing Categories: Schedule, Duration, Relisting, and Quantity
Before you can list your item for sale there are a few more categories that need some consideration:
SCHEDULE - The default setting is to go "live" with your listing when you complete and publish it, but you can change the time to start your listing at a specific date and time in the future.
DURATION - By default, auction listings run for 7 days. You can pick anywhere from 1 to 7 days, but leaving your auction live for a week gives buyers a chance to find your listing and consider bidding. Fixed price listings default to 30 days, though you can shorten this duration too.
RELISTING - As a convenience to sellers, we can automatically post your listing up to 4 additional times in the event it doesn't sell.
QUANTITY - If you have more than 1 of the exact same item, you can create one listing with a quantity. When one of your items sells, we will automatically relist another of your items for sale using the exact same selling format and listing.
Shipping and Pickup
Sellers on TrainzAuctions.com specify which regions of the world they want to ship to and the shipping fees charged to buyers in those regions. If a seller does not check off, for example, the "Canada" checkbox and fill in a shipping amount, then buyers in Canada will not be able to buy this item. The Shipping Terms area is for sellers to list any special notations or terms about their shipping. This area could include things like: how the seller will package the item, postage insurance, return policies, etc.
The Pickup option charges no shipping and is for buyers who will physically visit the seller to pick up the item sold.
Currently, we only accept PayPal as the mechanism for the transmission of money between buyer and seller, so that checkbox must be checked.
Publish Your Listing
Finally, the last step is to either Submit (publish your listing now) or Save as a Draft listing (it will remain available to you, but unseen by the public). Most sellers will choose to publish their listing right away, knowing that you can edit your listing later. (See Manage Your Listings for more info about that.) To see your listing live in the Marketplace, go to your My Account where you can view your live listing.
If you have any further questions, please refer to our TrainzAuctions FAQ.