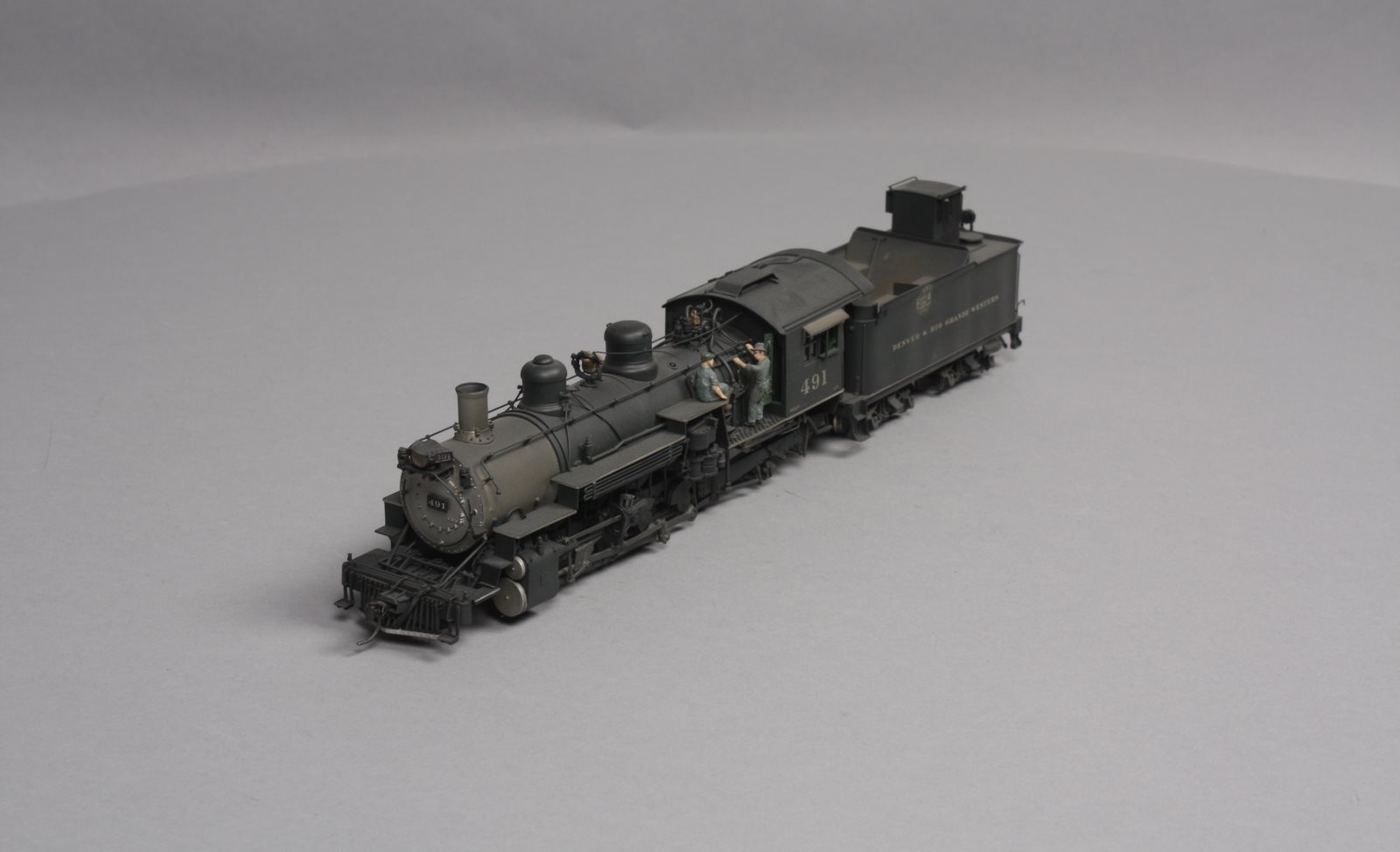 Variety is, as they say, the spice of life, and working at Trainz over the years has shown this to be true time and time again. With new collections arriving daily, there is always a surprise lurking in one of those shipping boxes. Each new arrival brings with it a chance to learn one more facet of a fascinating and diverse hobby.
Narrow Gauge Railroading
Narrow gauge railroading has become an increasingly popular segment of model railroading for many years now, allowing modelers to craft and weather highly detailed rolling stock and for operators to pack complex trackage into a small physical footprint. Whether that's logging roads populated with busy little Shay steam locomotives chugging through the forest (and passing an illicit moonshine still or two), or a Denver & Rio Grande Western K-36 clawing up the grade at Marshall Pass, narrow gauge lends itself to beautifully detailed layouts and dioramas.
In the full-size world, standard gauge places the rails four feet, eight and a half inches apart. Narrow gauge on the other hand isn't a single set distance between rails, but encompasses a variety of possible gauges including the popular Cape Gauge of three feet six inches, the three foot gauge of coal-hauling East Broad Top as well as the perennially popular Denver & Rio Grande Western, Maine's old two-footer railroads, assorted industrial railroads winding through enormous steel mills or quarries, and even the one foot, eleven and a half inch gauge Ffestiniog Railway in Wales.
Here are the most common narrow gauge scales in the modeling world :
On30 (replicating two foot six inch gauge) has the most commercial support. With O scale (1:48) rolling stock running on HO scale track, it allows for the easy use of existing mechanisms and commercial track to keep prices low.
HOn30 is similar, using HO scale (1:87.1) rolling stock on N scale track.
Less widespread scales include:
On3, which models three foot gauge railroads and requires special On3 track.
Nn3, which uses N scale rolling stock on Z scale track.
Sn3 is 1:64 scale running on unique 14.3mm gauge track. There is much less commercial support for Sn3, leading many who choose this interesting gauge to handcraft their own rolling stock and handlay rail.
Handsome Sn3 Collection
We received a large Sn3 collection at Trainz recently. There are a few companies that produce items in this scale, and this collection included locomotive and rolling stock from PBL Milestone Models among other makers:
Milestone Models Rio Grande Southern C-19 2-8-0 Consolidation
One particularly detailed example by Milestone Models was a Rio Grande Southern C-19 2-8-0 Consolidation. Made of brass, painted to museum quality standards, and equipped with sound, this locomotive featured great weathering, as well as little details like a canvas sheet to protect the engineer and fireman during inclement weather and a water bag hanging from the outside of the cab on the engineer's side. As a neat piece of trivia, the real engine #41 was purchased in the 1950s for Knott's Berry Farm and used on the Calico and Ghost Town Railroad.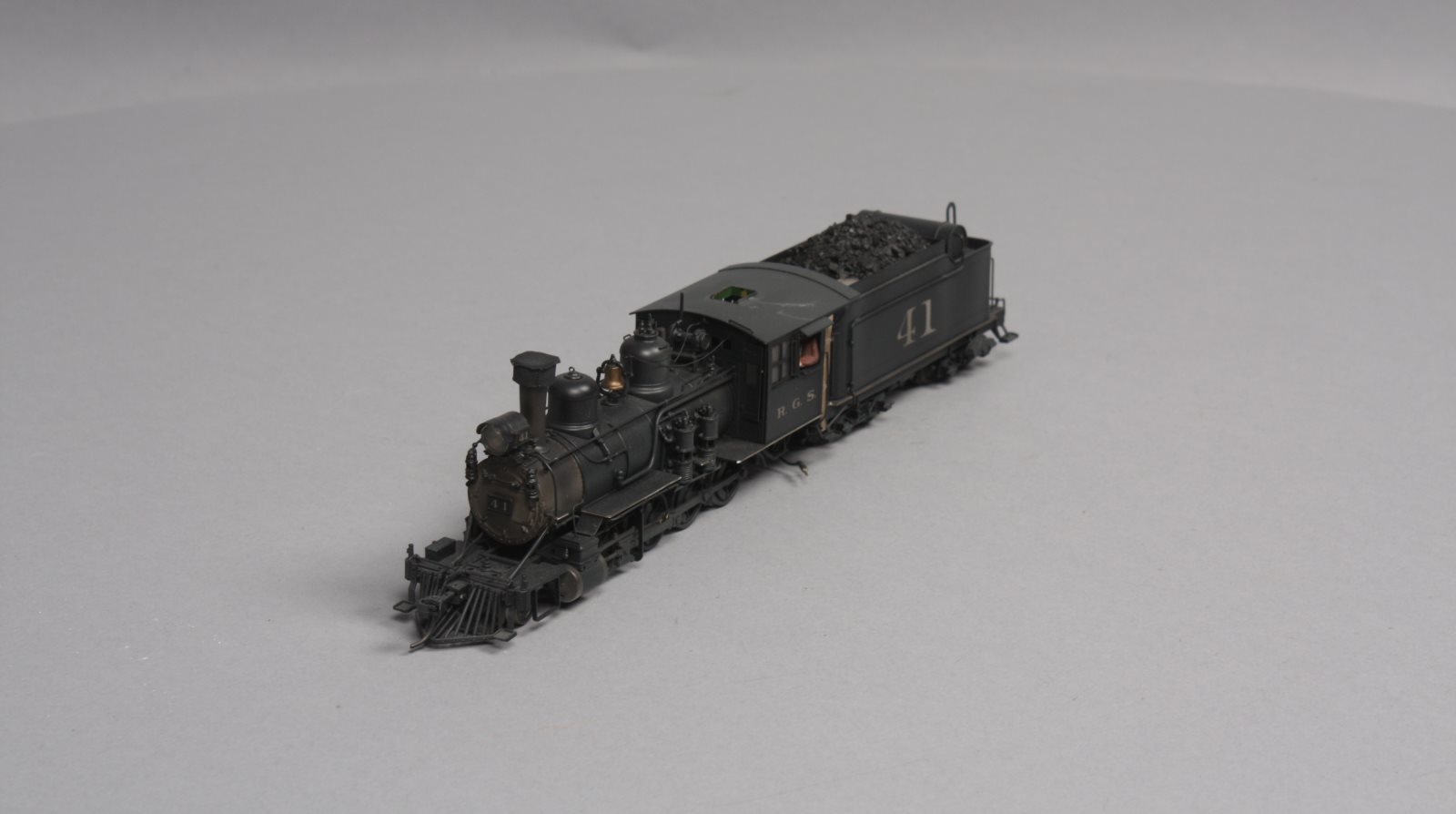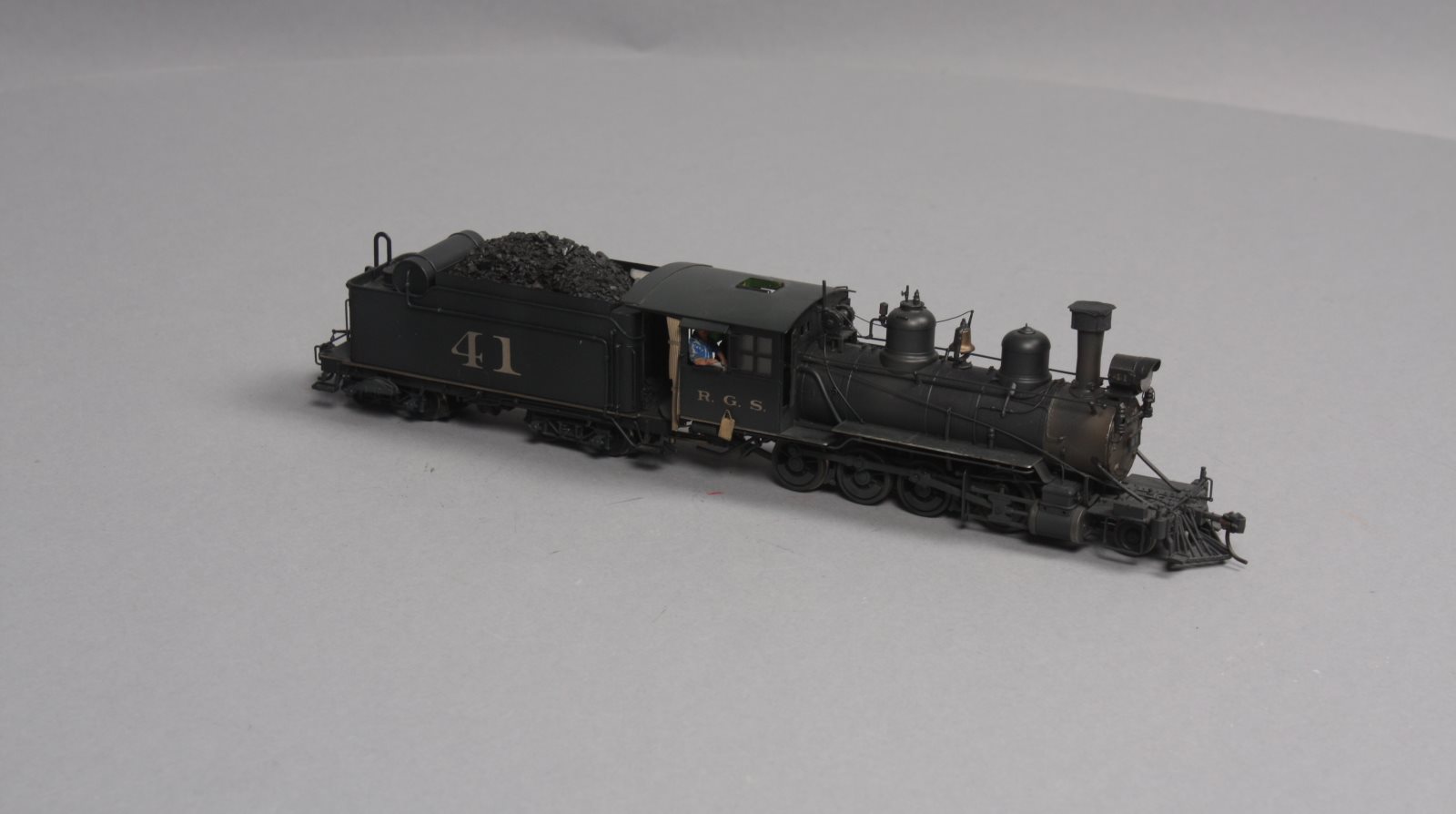 PBL Rio Grande K-36 #488
Protected inside its strong wooden case, Rio Grande K-36 #488 is another example of exquisite attention to detail. This brass, outside-frame narrow gauge Mikado features the same detailed paint job as all the locomotives in this collection. Water bags hang from the cab and tender, and canvas sheeting is mounted to the cab where two figures stand steadfast at their stations. The locomotive was also equipped with PBL sound for an additional layer of realism. Placed on a highly detailed layout, you might have trouble remembering where and when you are. Hook up to a string of flatcars loaded down with oil pipes and drilling equipment and you've got a train ready for the Farmington branch, or you could pull passenger varnish for a change of pace. #488 did both, putting its 36,200 lbf of tractive effort to good use.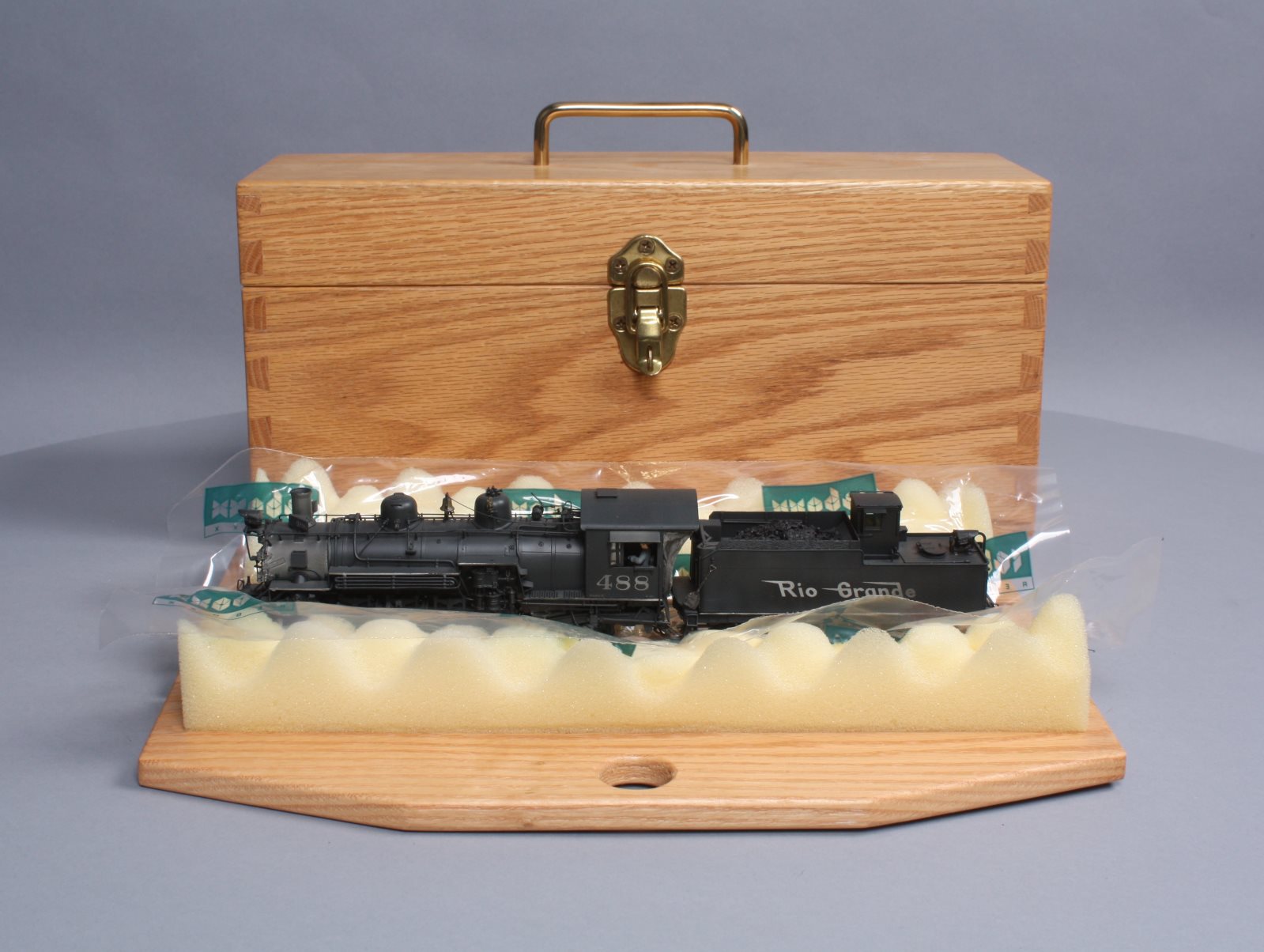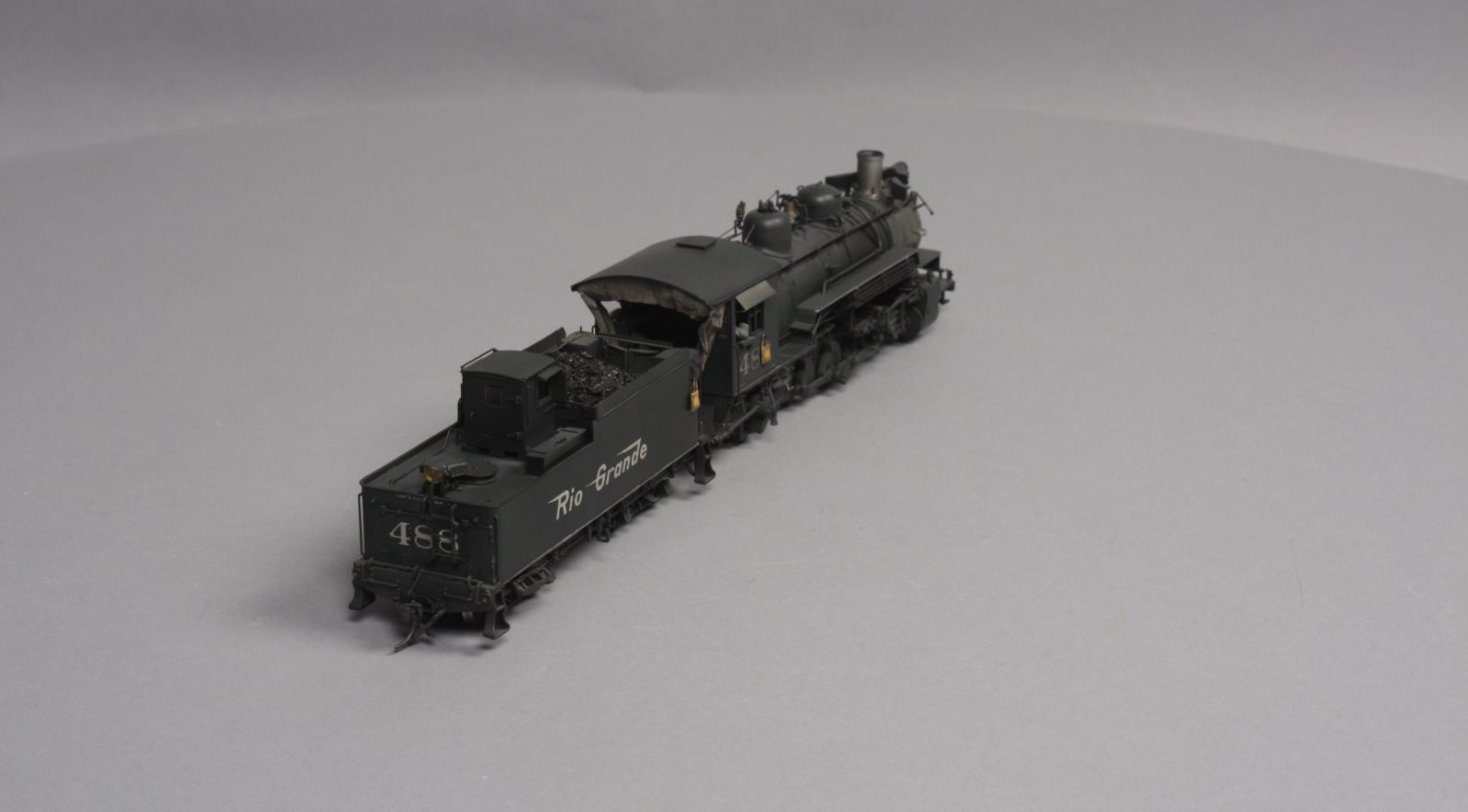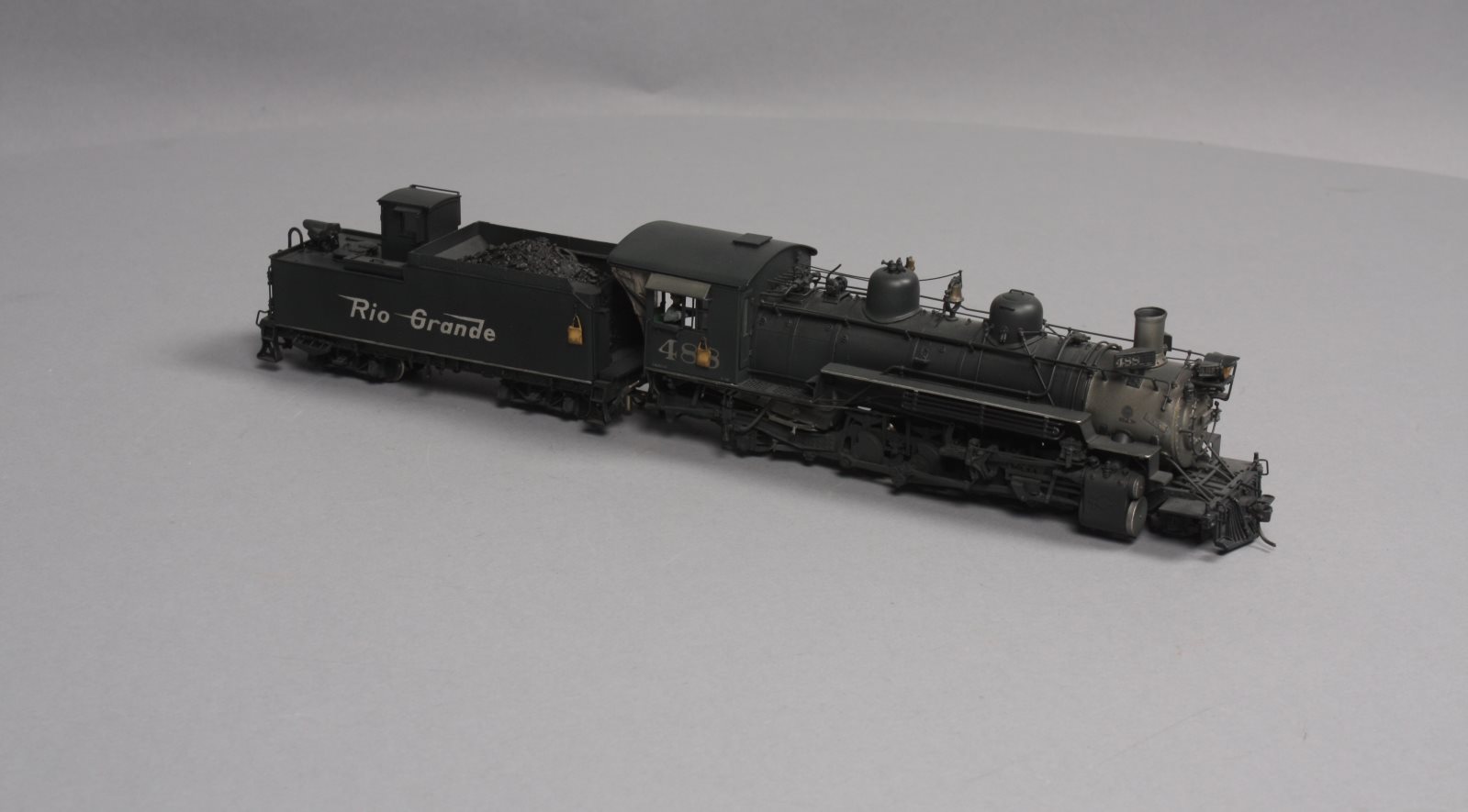 PBL D&RGW Boxcars
While a collection composed entirely of locomotives is not unheard of, this one included a wide range of passenger and freight cars made to the same high standards. Many of the freight cars in this collection were from PBL and depicted specific cars in operation during a particular year or set of years on the modeled railroad. These boxcars, for example, were used by D&RGW during the 1940s. Sold as a kit, they were professionally assembled, painted, and detailed.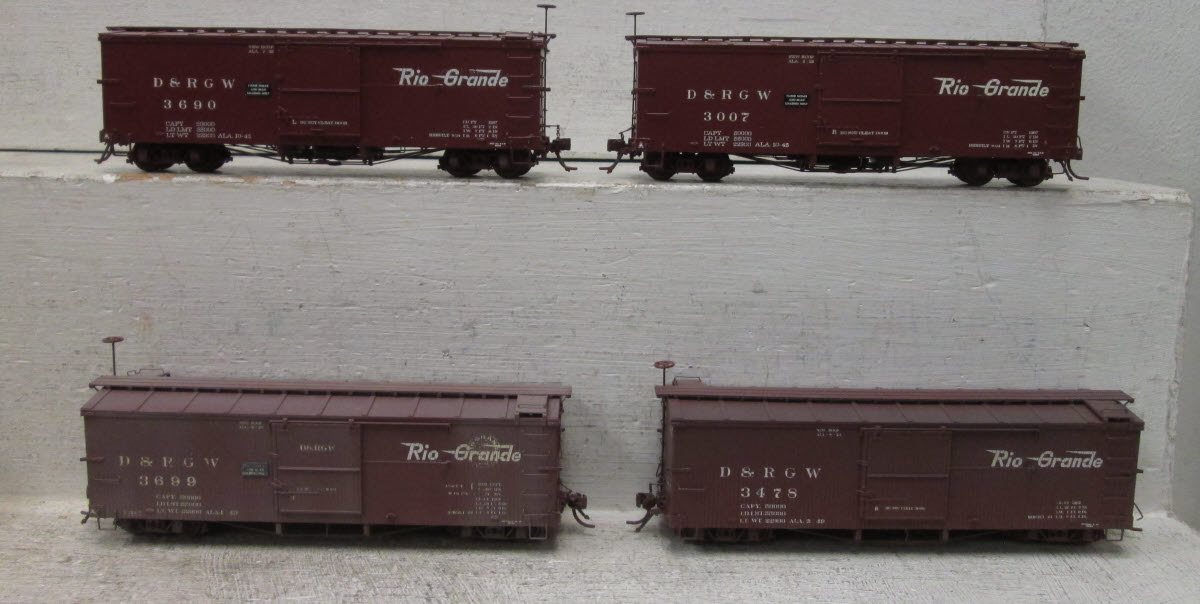 D&RGW refrigerator cars
If your railroad had to move perishable items, a string of reefers would be more in line with your needs. This quartet of D&RGW refrigerator cars was constructed from high-impact molded styrene for the body, weathered nickel wheels, and metal grab irons.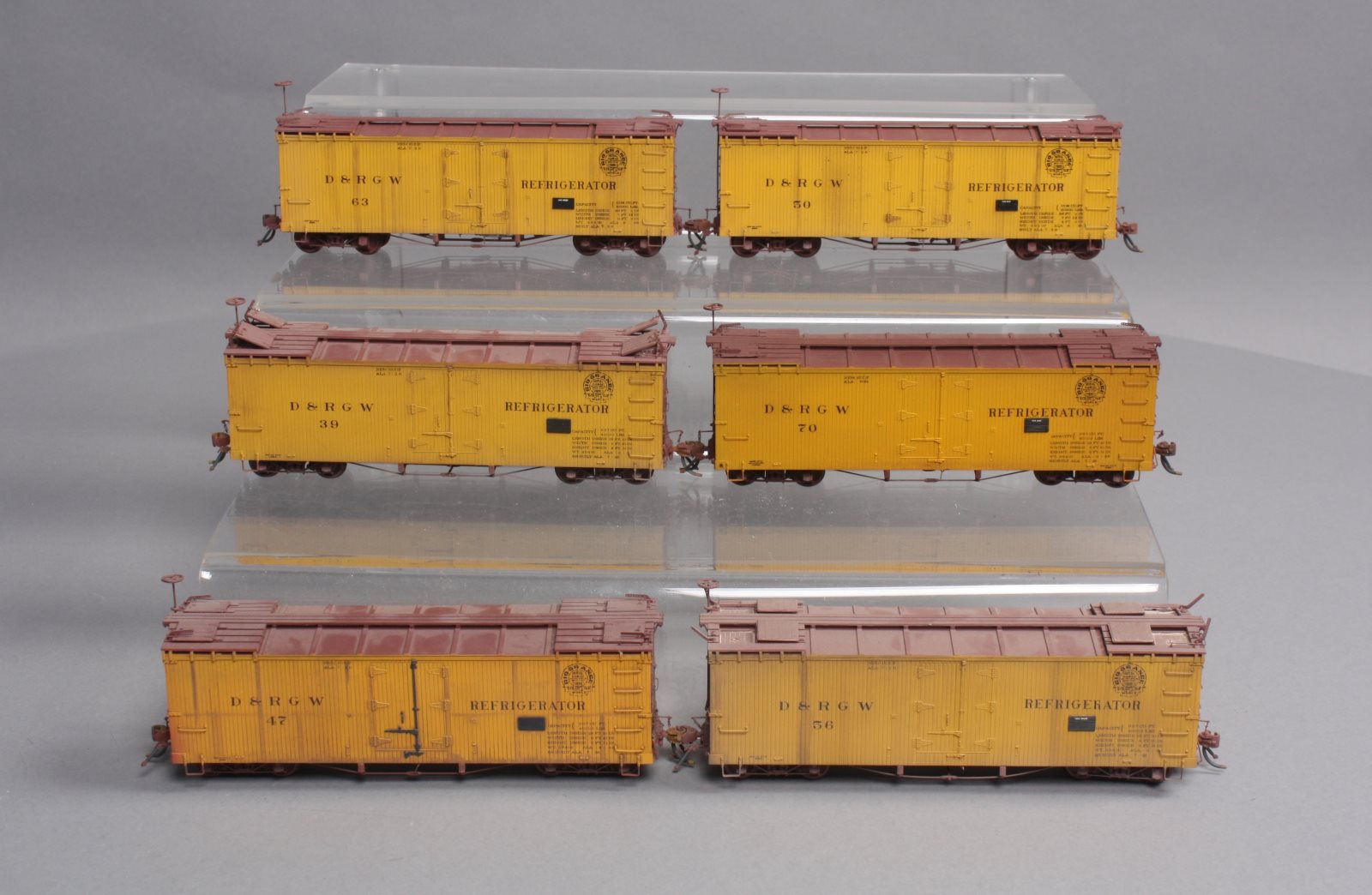 D&RGW stock cars
When cattle were transported on the hoof via railroad, trains had to stop frequently at purpose-built pens to let the cows out for feed, water, and exercise. Modeling one of these pens would let you add another layer of hyper-realism with weathered wooden fences, dirty straw, spilled feed and dented troughs full of water. If you wanted to model one of these pens or even a stockyard, or just feel that the Wild West calls for cattle, then these beautifully assembled and detailed stock cars would be just the ticket.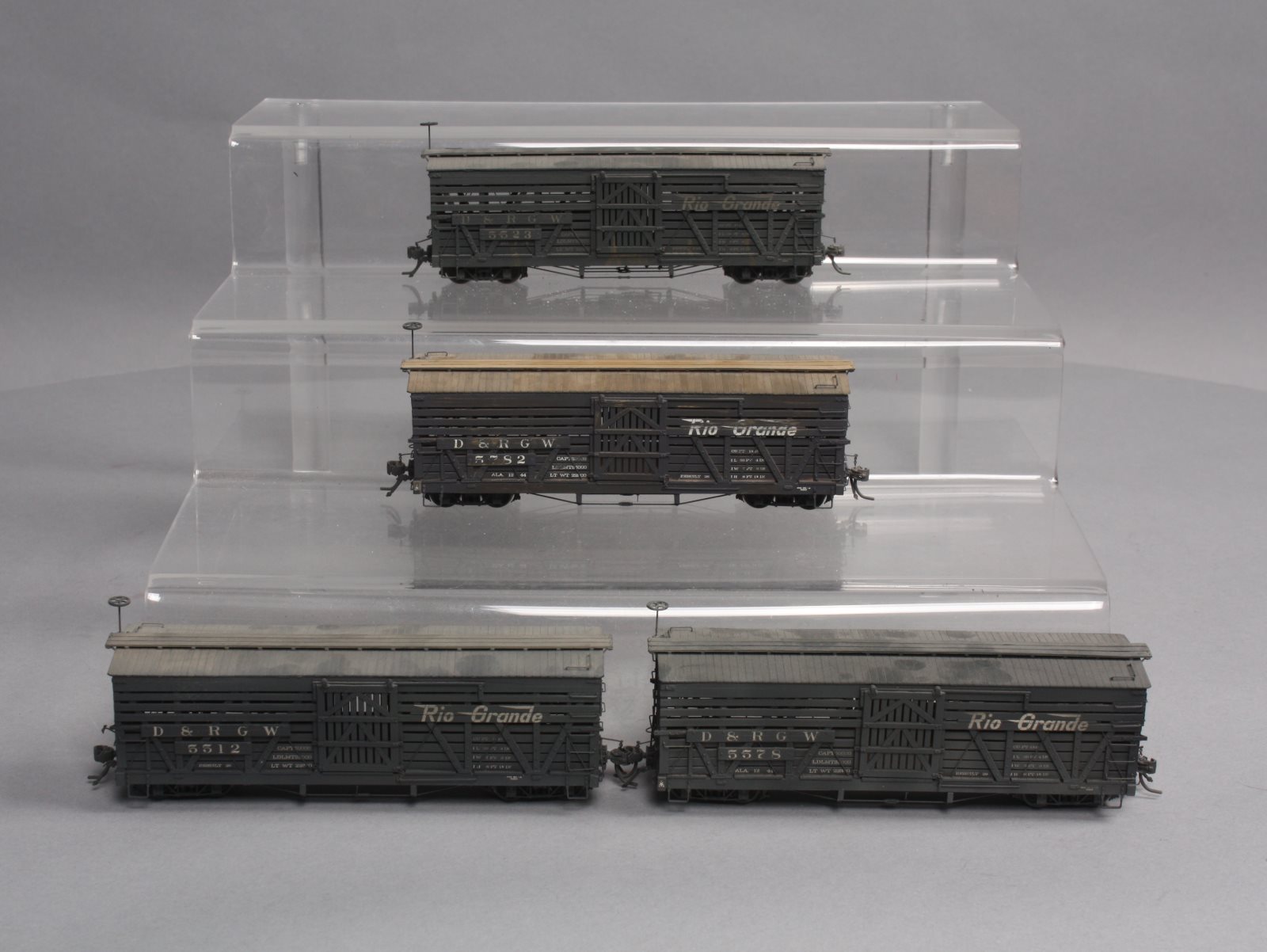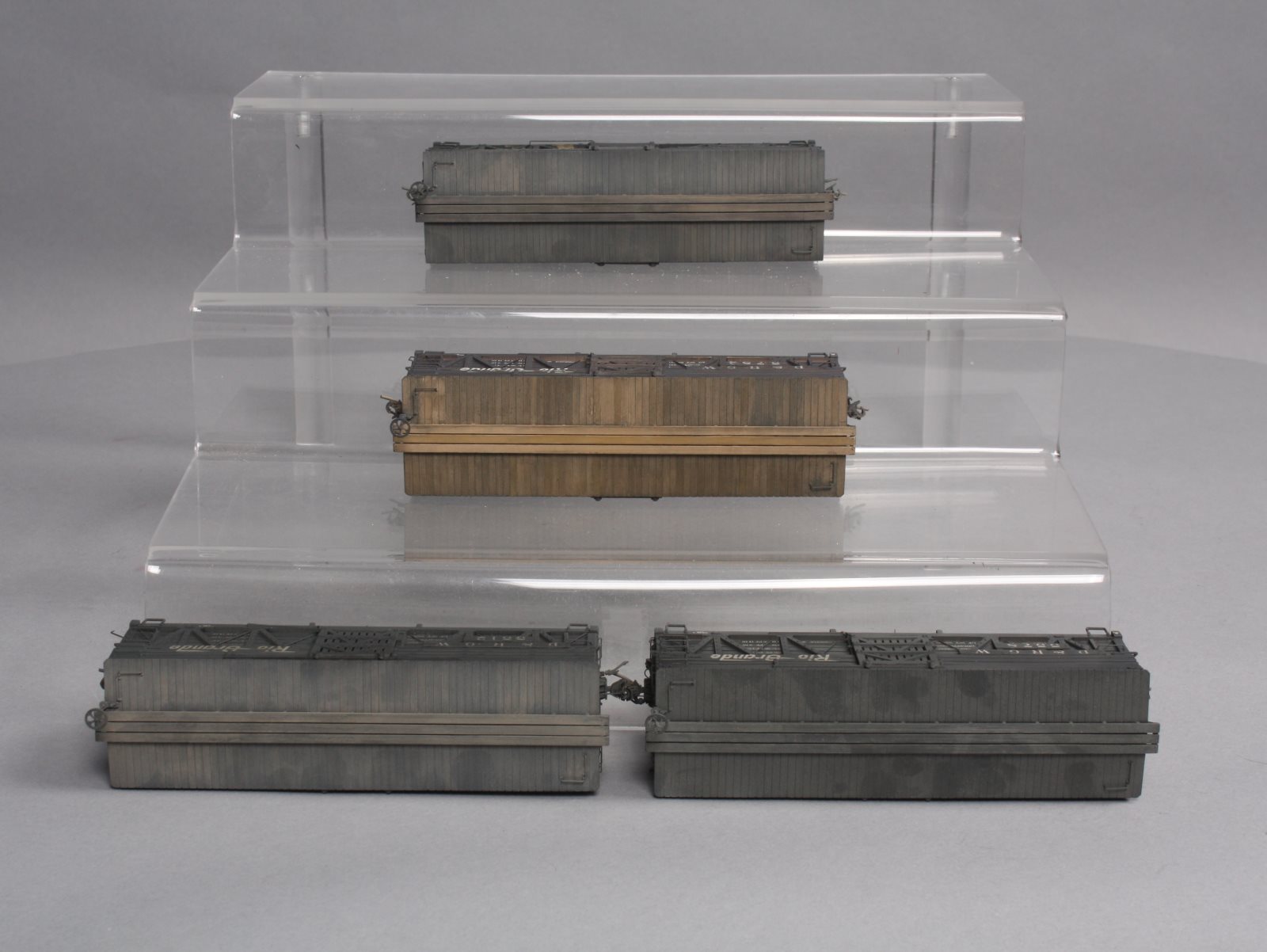 Durango & Silverton Passenger Car
Eventually narrow gauge railroads began to wither and shut down. Either the resource they were built to extract was exhausted, the added expense of transloading at the break of gauge made business unprofitable, or existing lines were regauged to standard and the old equipment was broken up for scrap. In the United States a handful of narrow gauge railroads remain in operation, made profitable not by hauling coal or freight but transporting passengers through the wild and breathtakingly rugged landscape that brought them into existence in the first place. The Combres & Toltec is one example, while the Durango & Silverton is another. Spun from the Denver & Rio Grande Western, the Durango & Silverton made use of special observation cars for many of their sightseeing trains. Of course this collection included a brass example painted to perfection.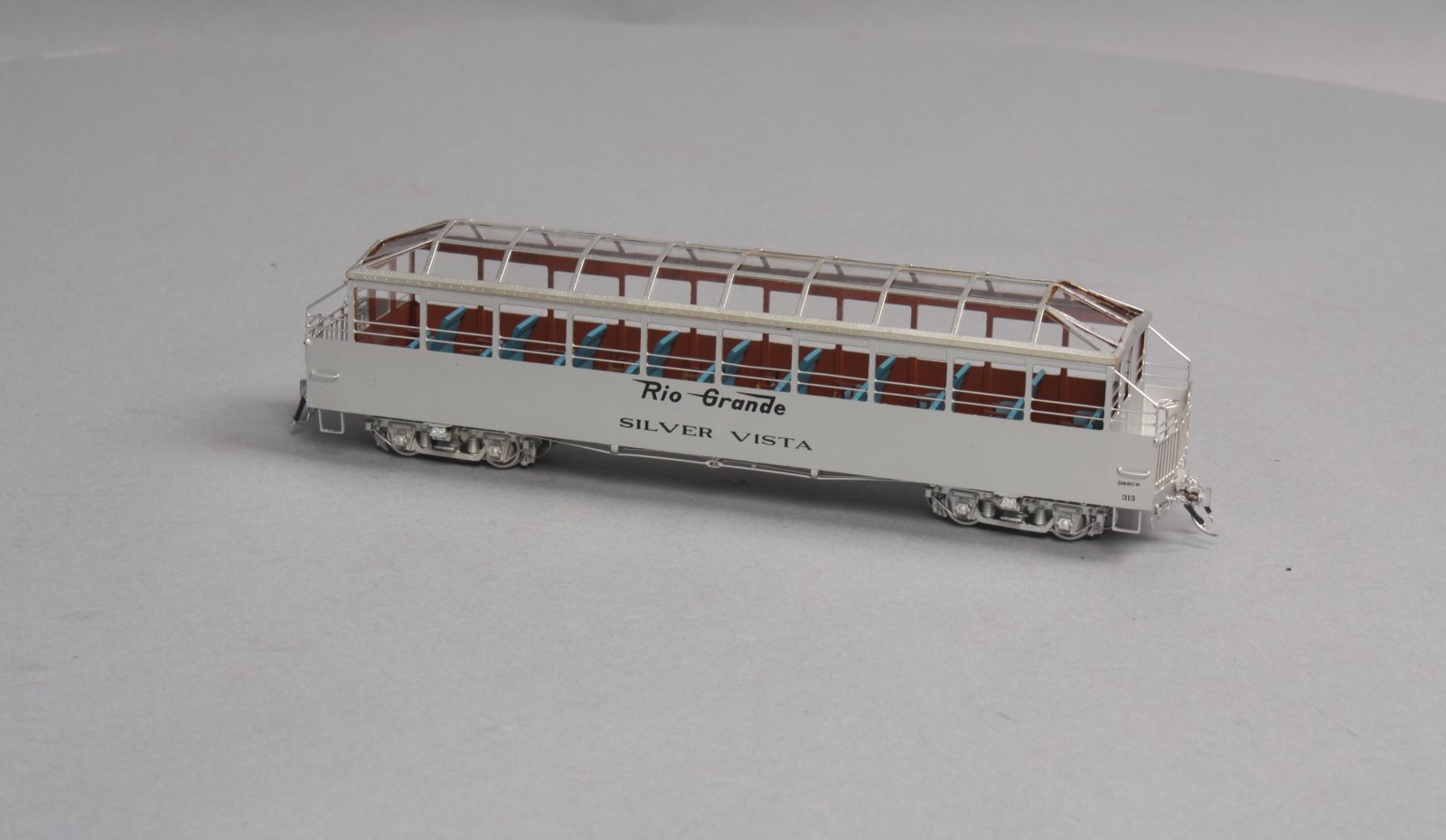 Whether you model the American 1950s in standard gauge, a china clay hauler in Cornwall, or just have a loop of track around the Christmas tree, it is easy to see and appreciate the remarkable attention to detail and precision work that has gone into crafting these beautiful rare locomotives and rolling stock.