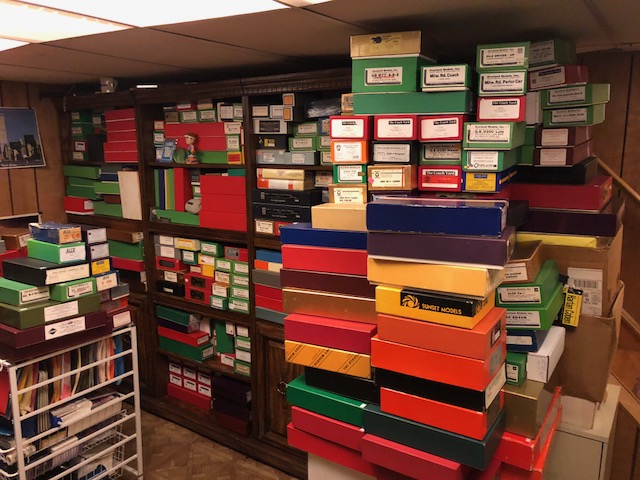 Chasing Brass
Do you remember getting your first train set? Maybe it was Christmas morning, tearing the paper off an enormous orange box with a Santa Fe Super Chief inside waiting patiently for the highball. Before your brother got to the bottom of his stocking you'd have a red and silver bullet racing in circles around the tree. Or maybe you bought that 773 Hudson locomotive and 2426W tender yourself with money carefully saved from birthdays, mowing yards, or delivering newspapers.

For Victor Giuffre, he had a train set waiting for him before he'd been born. When Victor's mother broke the good news, his father rushed out and bought a set right away for the future engineer. As time went on the circle around the Christmas tree developed into a four by eight foot layout, eventually superseded in the 1980s by a ten by twenty foot modular layout in the basement. Growing up on Long Island, many of the layout's additions came from TrainLand, a hobby shop where Mr. Giuffre worked for a time. When Giuffre moved to Pennsylvania in 1987 his realtor was tasked with finding a house with a big enough basement to fit his railroad empire.

While the layout made use of ever more detailed plastic locomotives and rolling stock, Victor and his father began collecting brass locomotives and rolling stock. Starting in the 1970s, additions to the collection came from different hobby stores and other collectors. Beginning in the 1990s, eBay and other websites became the primary source for new purchases. Taking the Jack Sprat approach to collecting, Giuffre loved diesel locomotives and passenger cars, while his father adored steam. When Victor's father passed away in 2010, Victor kept the collection going.
There are as many different reasons to start a collection as there are people. For Giuffre and his father any purchase had to be unique. Low production numbers, unusual prototypes, and limited editions were their qualifications. Southern Pacific and Pennsylvania Railroad were the roads of choice, but the collection was by no means limited to just those two. Purchases were made as an investment, with significant research on the rarity of a particular item, its selling history, and potential for increased value. The collection was never put on display, kept instead inside their boxes with packing material and paperwork intact.
The Collection Heads to Market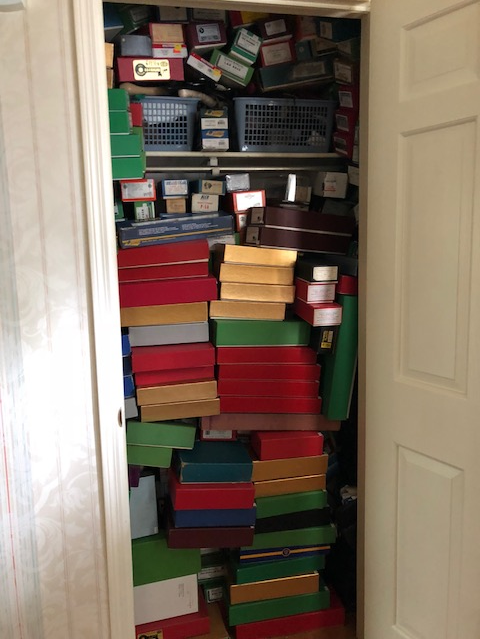 All good things must have their end, and a collection is no different. Brass had taken over the train room, the furnace room, and boxes were wedged in wherever they would fit throughout the house. At the same time, Giuffre had connected with an HO scale club centered on operating layouts. Over Wednesday breakfast meetings he decided to focus on designing, building, and decorating an operating HO scale layout of his own.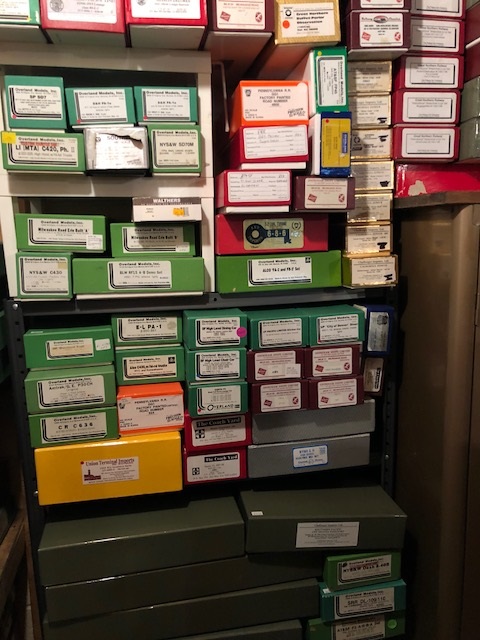 Trainz is best known for our extensive Lionel offerings, but we are always at work expanding what we can provide for our customers. We take a special interest in brass collections of any scale. Working with brass requires specialized knowledge of not only the original prototype being modeled (as many arrive missing their boxes) but the manufacturer and importer as well in order to create the most accurate listing for our potential buyers and offer the best return for those who entrust us with their collections. Giuffre's collection of over two thousand pieces was unique in both size and quality. Rarely have we received a collection with boxes, foam inserts, and paperwork intact to such a degree.
Brass: Precision is a Mixed Blessing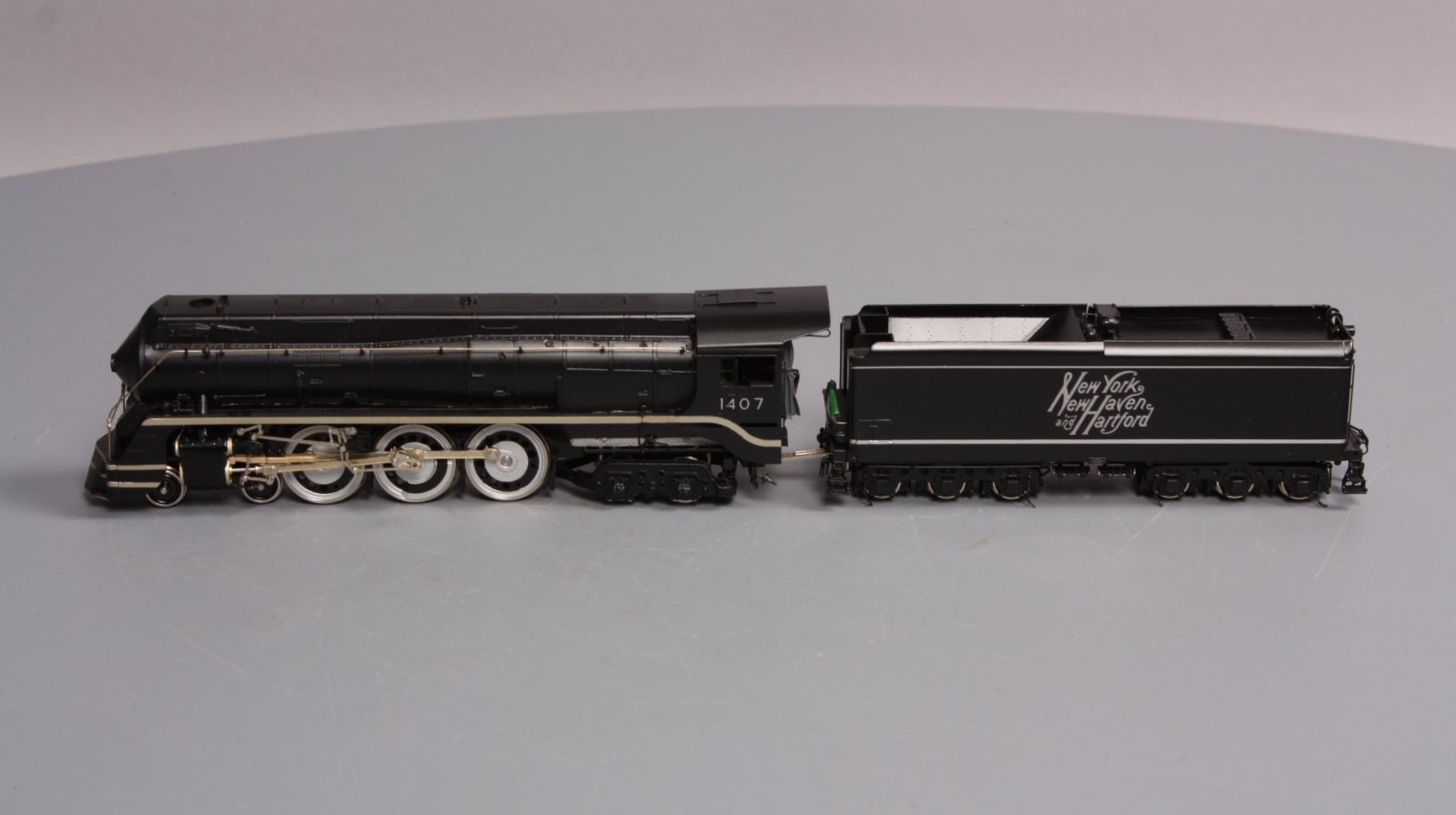 Brass locomotives in general require significant hands-on testing to check for proper operation. Steam engines are checked for potential binding of their connecting rods and valve gear. Diesel locomotives can suffer from broken gears due to the plastic aging and fracturing which keeps our in-house repair shop busy. Replacing a gear requires stripping the locomotive down to the drive mechanism, removing the fractured gear if it hasn't already fallen off, and then carefully pressing a new nylon or brass gear onto the axle. A delicate business in any scale, as even a small amount of force in the wrong place might bend an axle or egg the bore of a wheel. Replacing a dried-out rubber drive tube is comparatively simple.
With Giuffre's collection, however, the extreme care taken in proper storage has kept locomotives in excellent running condition. Given the collection's titanic size, it will be some time before all of it has been tested, photographed, and listed online. In the meantime, here are a few that have made it through the process.

A Glimpse at the Collection
Milwaukee Road EP-2 Electric Locomotive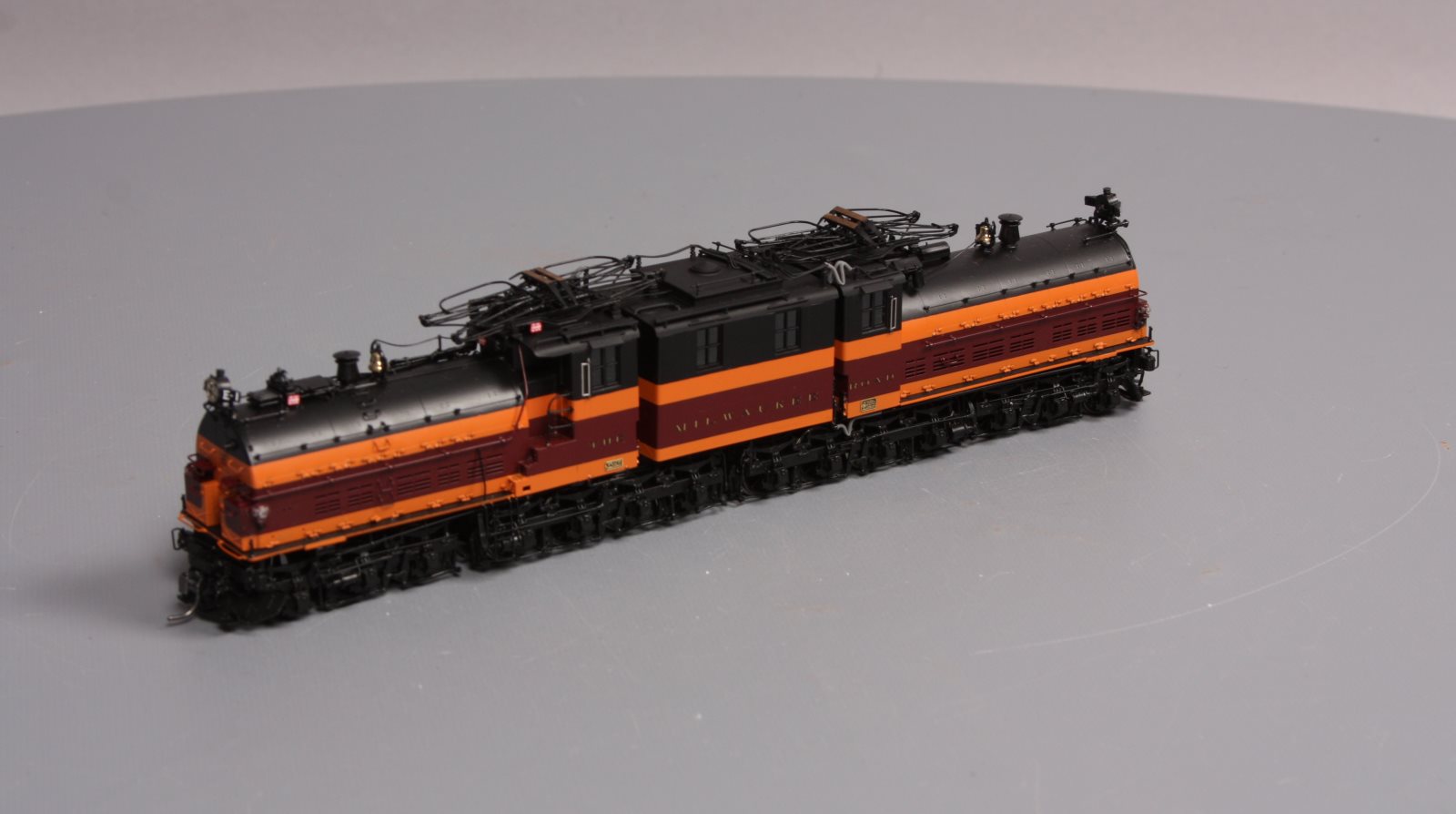 A visually distinctive and immensely powerful electric locomotive, the Milwaukee Road EP-2 first burnished the rails of the newly-electrified Coast Division in 1919. Five were constructed by General Electric and Alco, and operated solely by Milwaukee Road. The body of the EP-2 was split into three segments, joined by ball sockets, riding on a 1B-D+D-B1 wheel arrangement.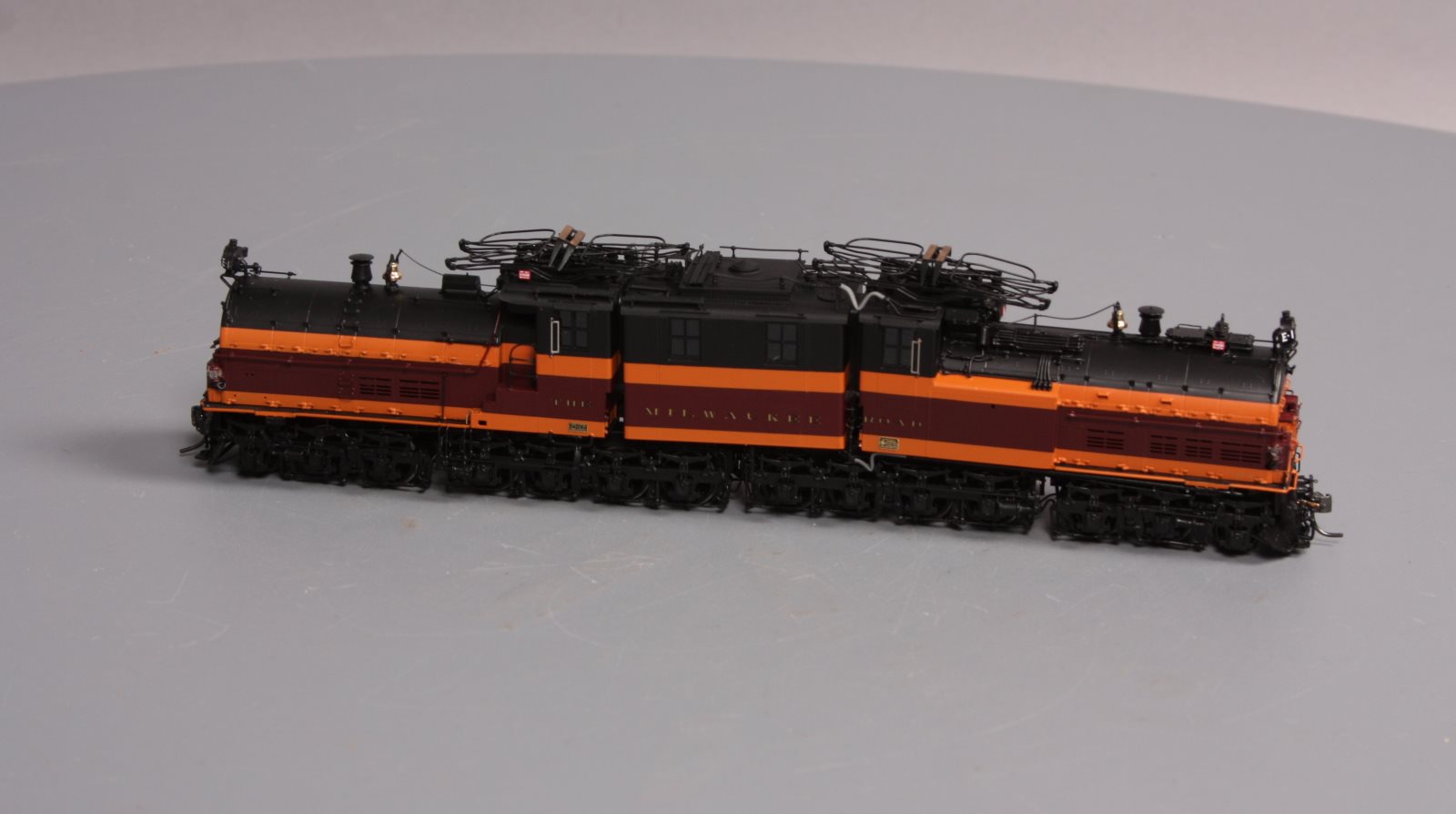 The EP-2 was equipped with twelve massive gearless bipolar electric motors, with field poles mounted to the locomotive's frame and motor armatures bolted directly to the axles. GE rated the Bi-Polar for 90 MPH operation, although Milwaukee Road used a more conservative 70 MPH as their top speed. Strong enough to pull any train on its own, the EP-2 was capable of 116,000 pounds of starting tractive effort.
This particular example's box states Iron Horse Models, Museum Quality by Precision Scale Co., and it couldn't be more accurate. Pantographs, bell pulls, brake sanding lines, hand rails and more have gifted this model with beautiful detail. Numbered E1, this would be after the 1939 renumbering but before the 1958 repaint into Union Pacific-inspired yellow and gray. Although EP-1 itself was scrapped in 1961, this example lives on as tribute to an historic locomotive.
Southern Pacific Krauss-Maffei Diesel-Hydraulic Locomotive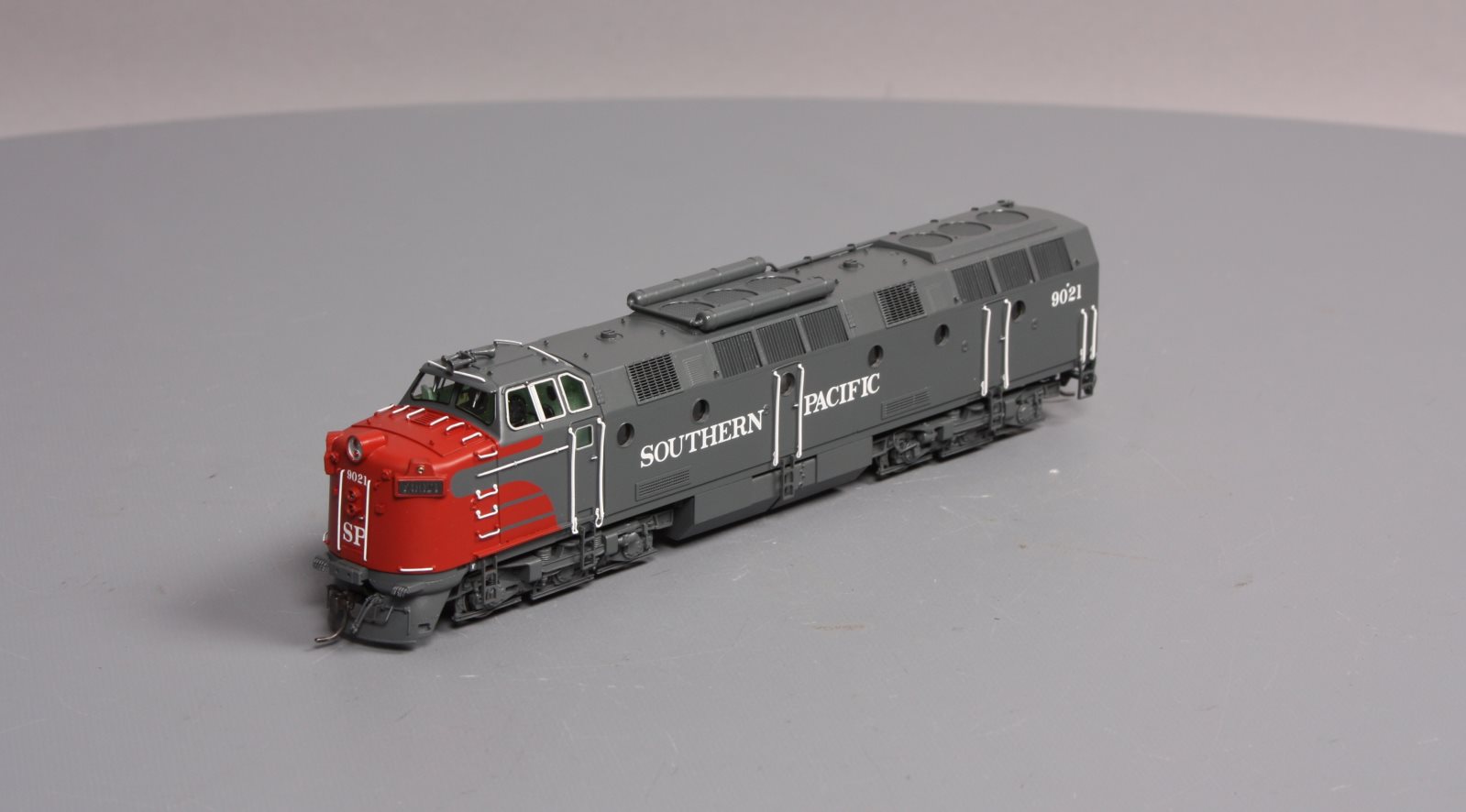 As American railroads transitioned from worn out first-generation diesel locomotives to second generation designs, the demand for more horsepower per unit rose to a fever pitch in the west. Union Pacific and Southern Pacific were the primary instigators of this horsepower race. Alco built the Century 855, GE the U50, and EMD its DD35. All locomotives featured twin diesel engines, five thousand total horsepower or better, and D-D or B-B-B-B wheel arrangements. At the same time as these juggernauts began rolling out, Southern Pacific experimented with the German-built Krauss-Maffei ML4000 as a higher-powered upgrade to its elderly EMD GP9s in the hopes of reducing the number of locomotives needed per train.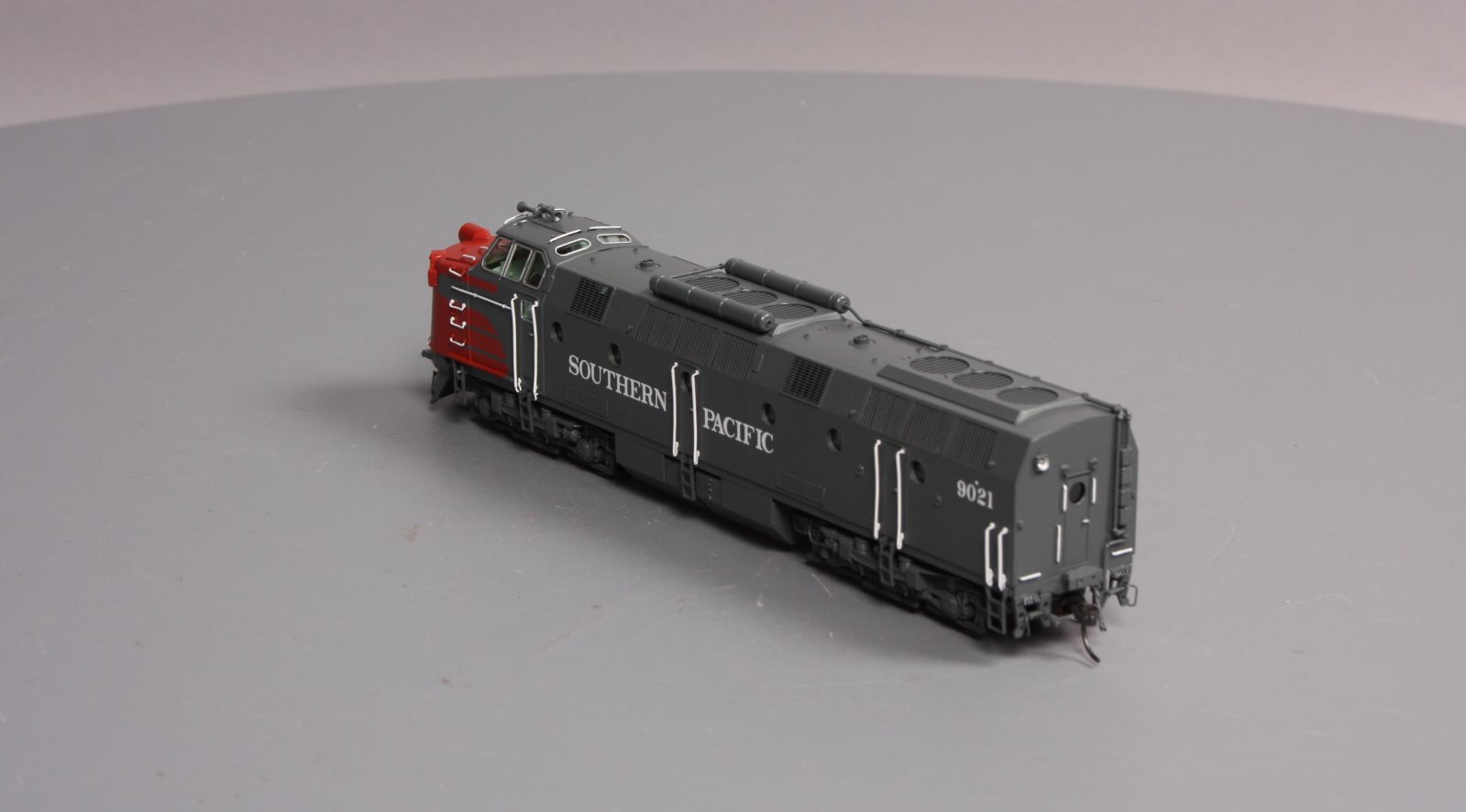 Unlike American diesel locomotives of the time, the ML4000 was a diesel-hydraulic design. Its twin V16 engines pumped out 3,450 horsepower at a time when domestic units of a similar size managed two thousand. By using hydraulics instead of electric motors the locomotive could make use of its greater horsepower and offered a better tractive effort to boot. Initially quite successful, all locomotives save one wound up scrapped before the end of eight years. A single unit remains in existence.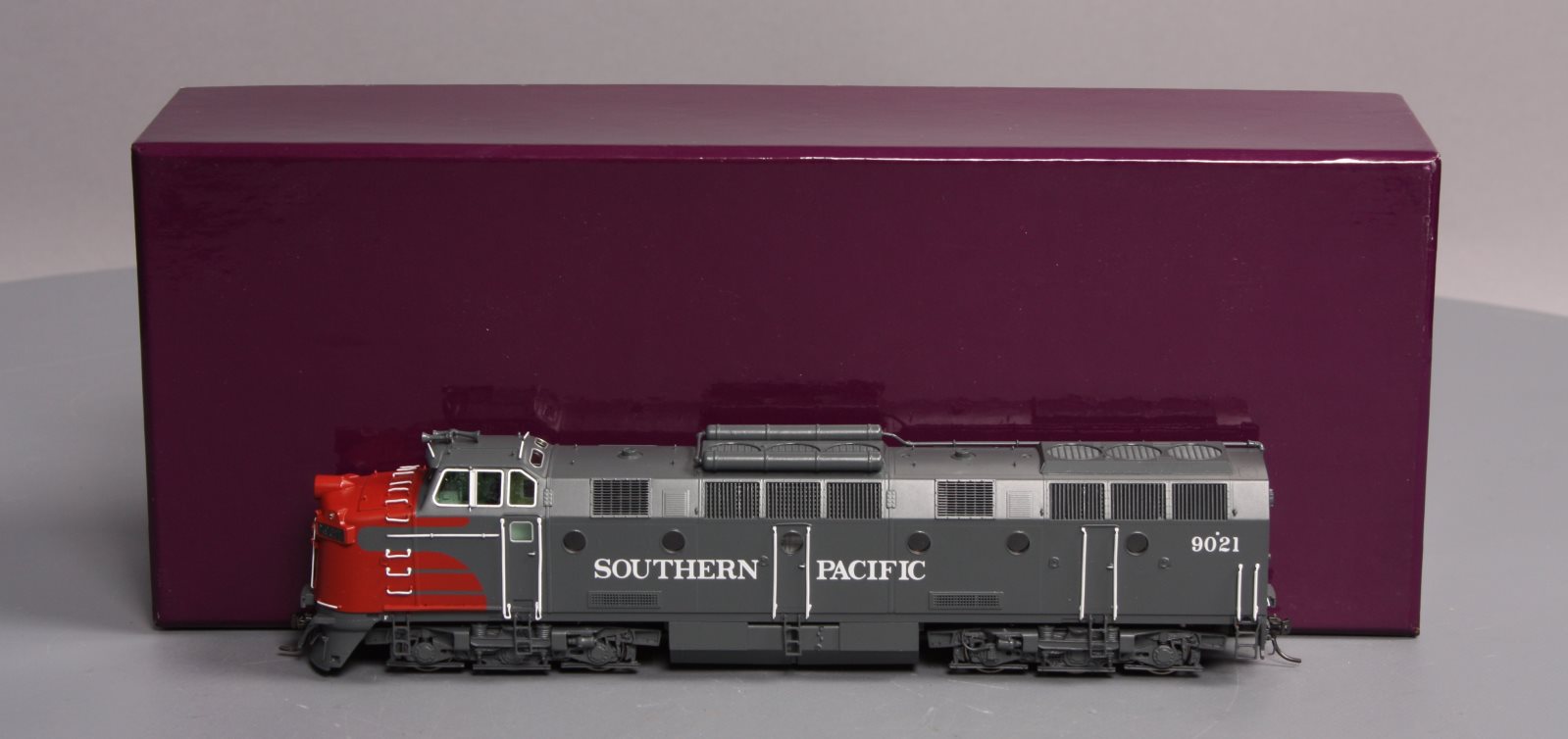 This example offered through Division Point is from a limited production run of seventeen locomotives. Made of brass and professionally painted, this locomotive would make an excellent display model. On a layout, it would be at home in the Sierra Nevada mountain range in its early years or paired with an F7 or GP9 working the flatter routes of California in its later years.
New York Central T-Motor Electric Locomotive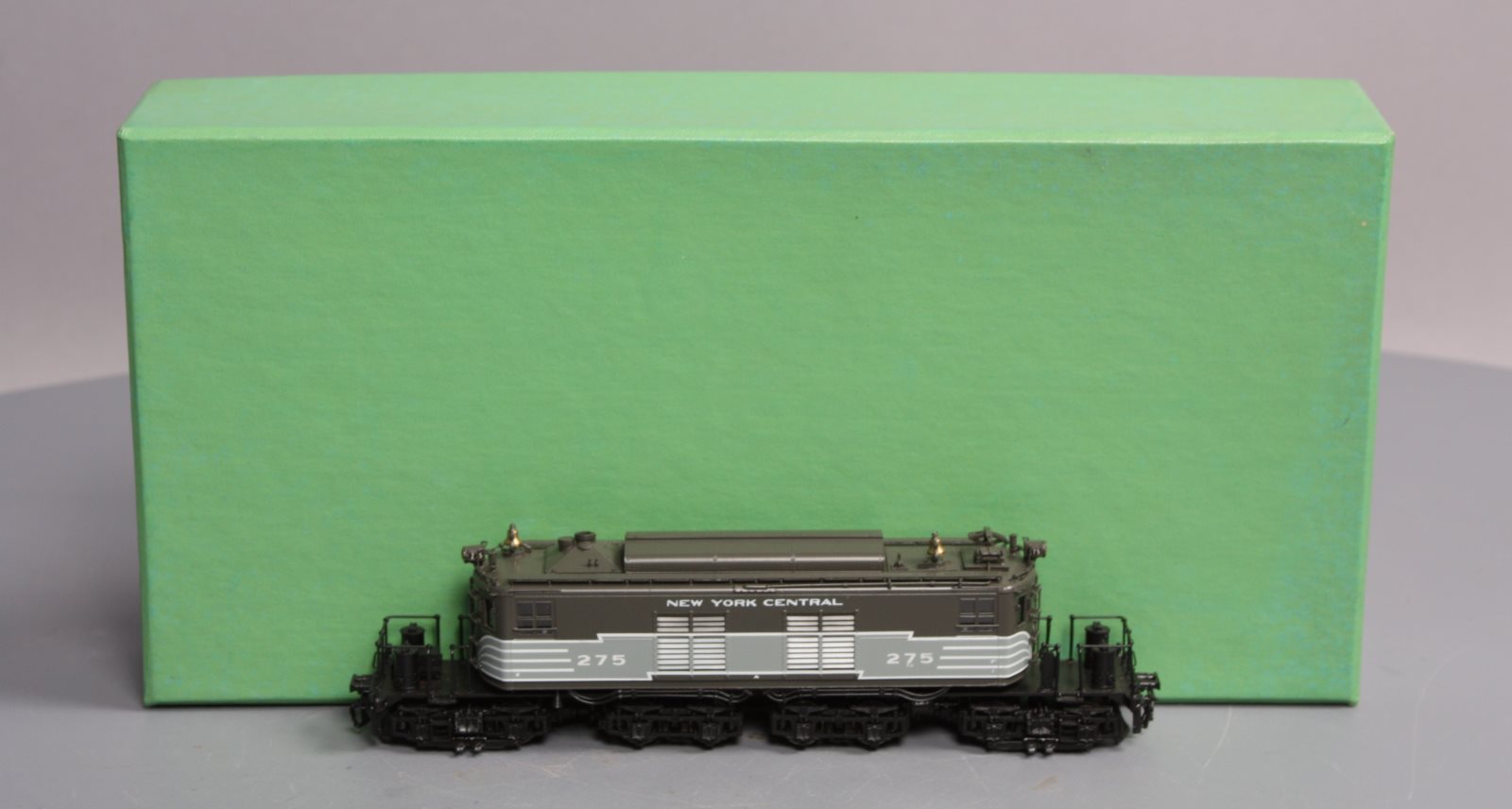 What could be more prototypical than operating an electric locomotive on your layout? The New York Central T-Motor, built by Alco-GE, even used third rail! Unfortunately not Lionel's famous 3-rail alternating current, but rather 660 volt direct current. Built from 1913 to 1926 these B-B-B-B electrics could put down up to 71,000 pounds of tractive effort and reach a speed of 75 MPH. Used for passenger trains ranging from local commuters up to the venerated 20th Century Limited.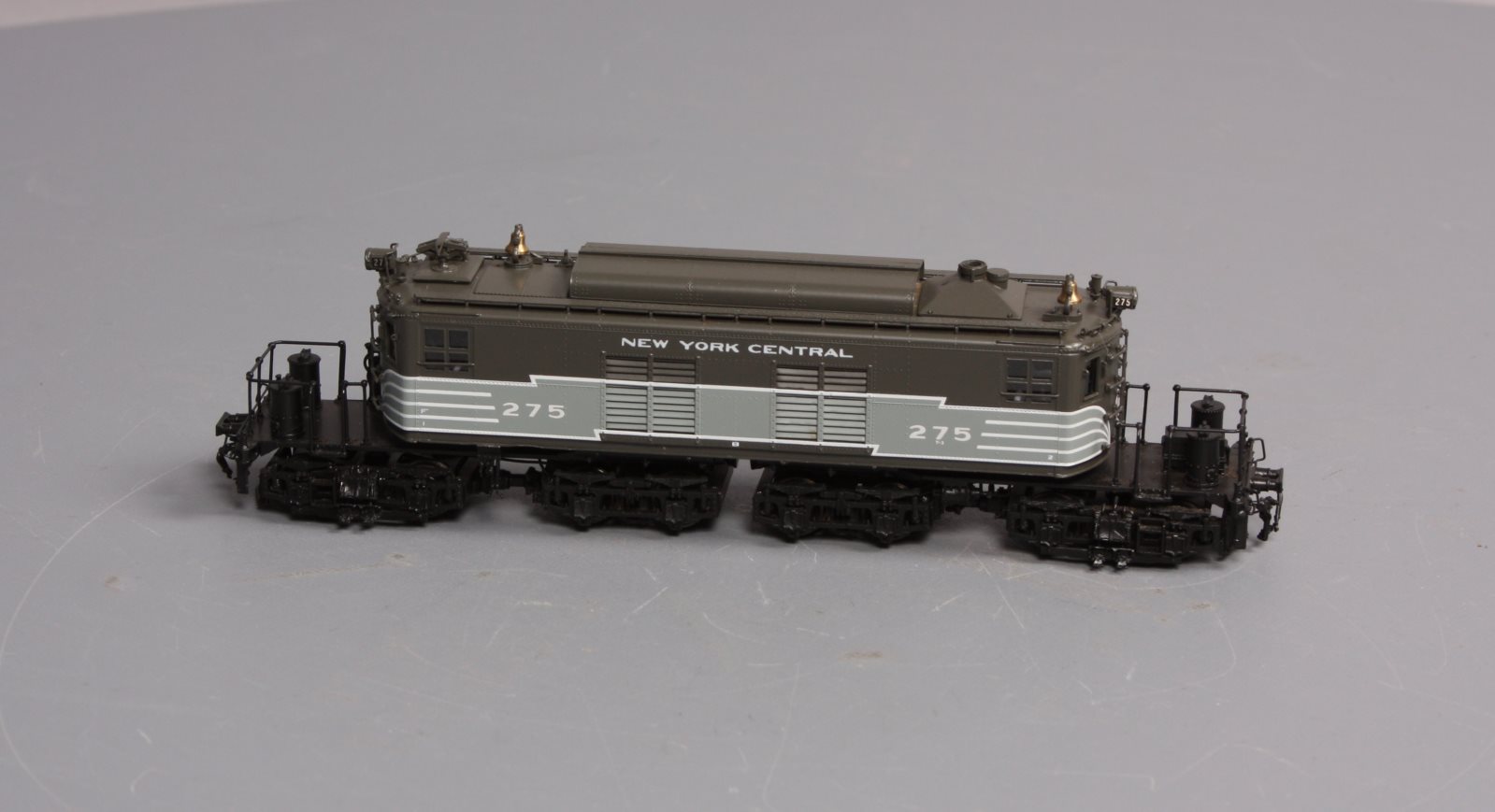 This Overland HO Scale New York Central T-Motor is equipped with prototypical third-rail shoes and pantographs, allowing the operator to replicate operating under the wire or riding the rail into Grand Central.
Pennsylvania Railroad T1 4-4-4-4 Duplex Steam Locomotive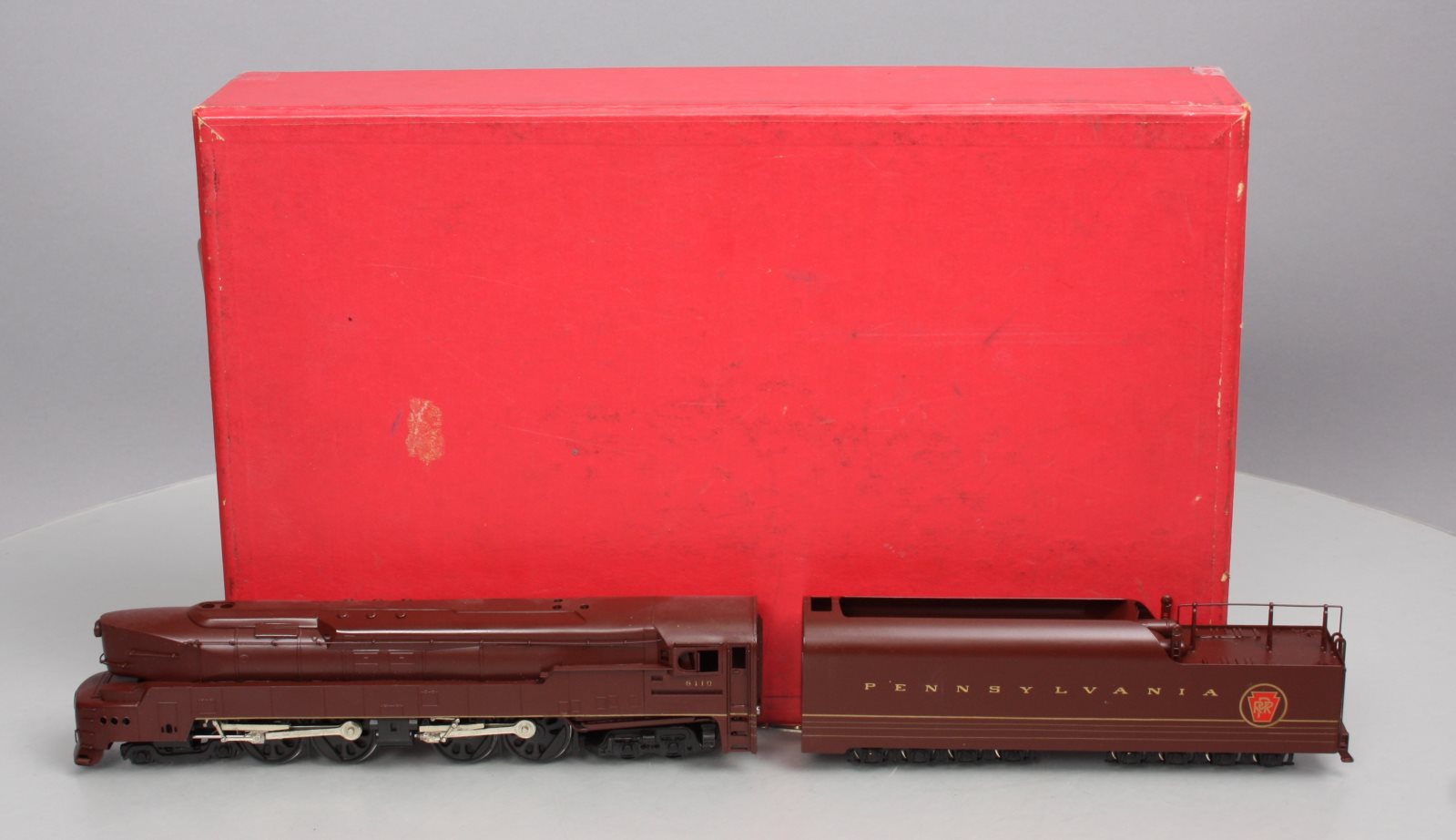 Pennsylvania Railroad, the Standard Railroad of the World, had a problem. Built from 1914 to 1928, Pennsy had a fleet of 425 K4s 4-6-2 Pacific steam locomotives hauling varnish across the system. New designs had been shelved as electrification freed up steam locomotives to work elsewhere, reducing the demand for new construction. Individual locomotives had been streamlined, others had been tested with new-fangled roller bearings, and a handful even received improved steam circuits with poppet valves.
Train lengths were increasing, and meeting the luxury demanded by passengers meant train weight ballooned upward. Double-heading was required, an expensive proposition that tied up two steam locomotives and two crews on a single run. Pennsy went looking for a new locomotive, and working with Baldwin it came up with the T1. Four leading wheels guided the high-speed steam engine through curves, while four trailing wheels supported the favored Belpaire firebox of the Pennsylvania Railroad. Unlike New York Central's Niagara or Union Pacific's FEF, the T1's driving wheels were split into two pairs of four wheels each, mounted to a rigid wheelbase.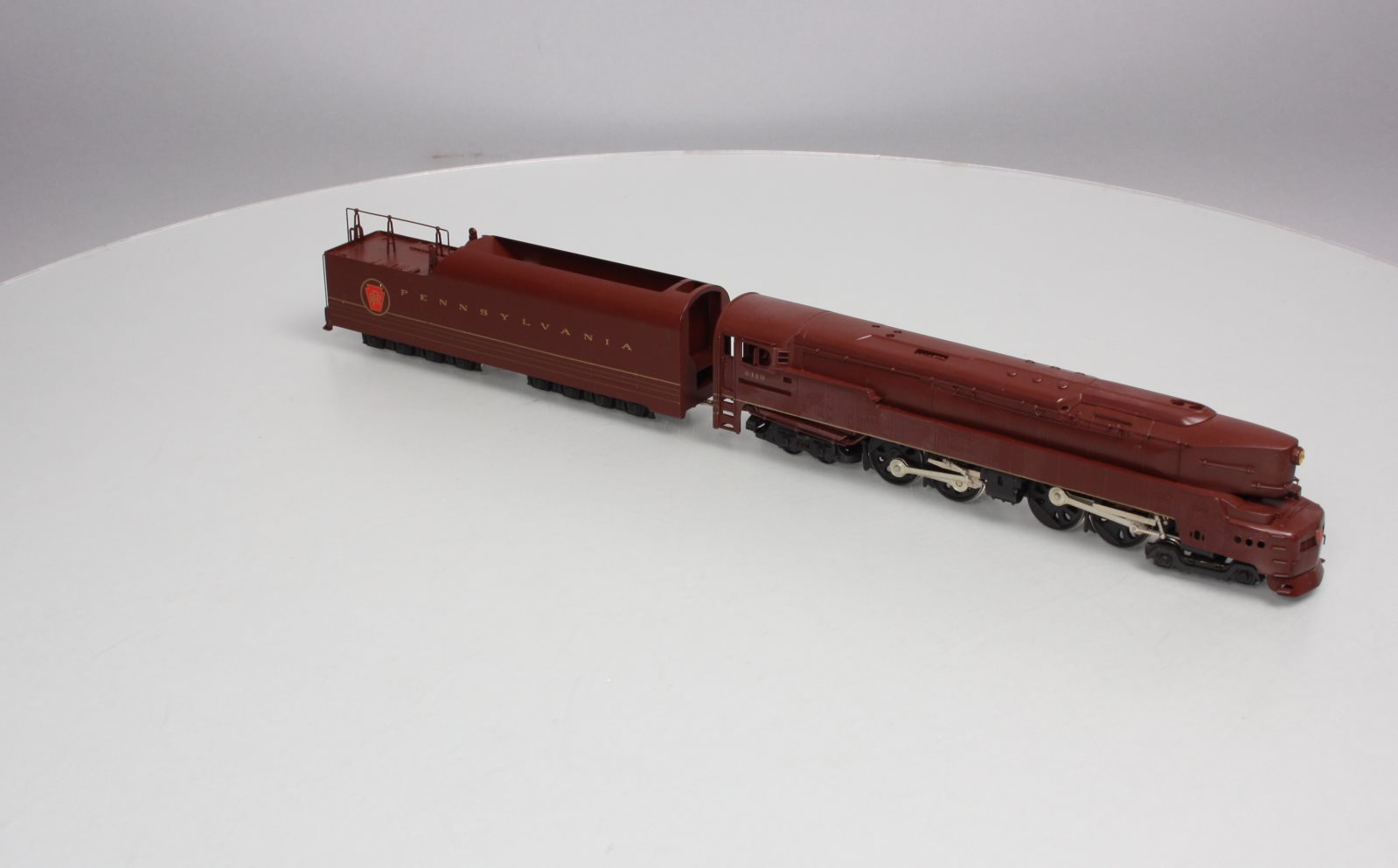 More easily balanced due to lighter reciprocating machinery, the T1's duplex drive promised high speed with low hammer blow to the track. Unfortunately the locomotive's immense power and light weight meant the T1 slipped easily, and controlling the slip was no easy matter. While the K4s was a basic machine befitting its 1914 origin, the T1 was equipped with all the modern conveniences. Training to make use of its unique equipment was lacking, meaning the locomotive's reputation could be easily broken by a recalcitrant engineer.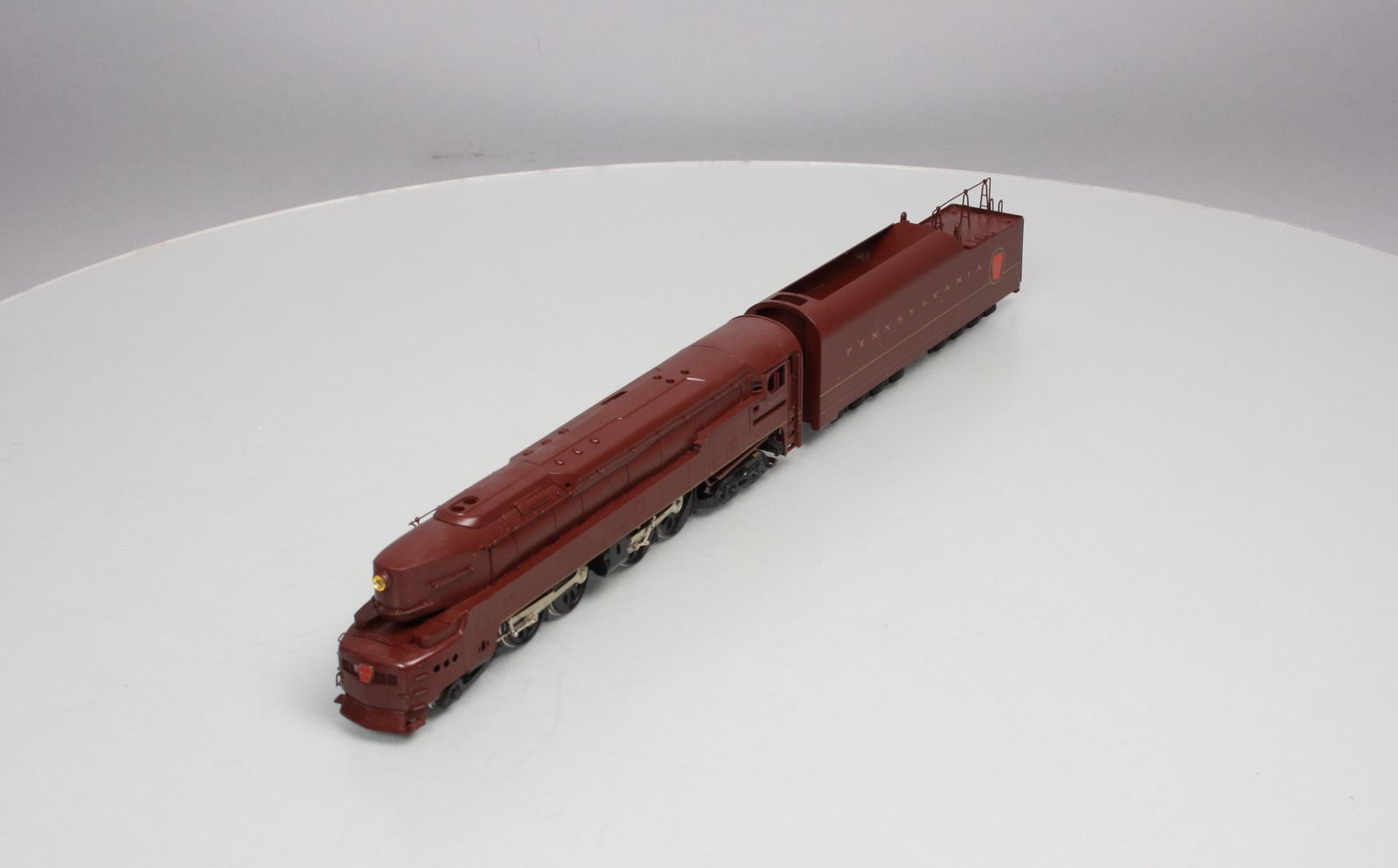 This model is of #6110, the prototype T1, with its full Raymond Loewy casing. Later examples featured a simplified streamlining to ease production. By 1952 the high-technology, high-maintenance T1 had been laid to rest by the diesel-electric locomotive. All units were scrapped by 1956. There is a hopeful note, though. The T1 Trust is constructing T1 #5550, a new fully operational duplex. Following in the footsteps of the A1 Steam Locomotive Trust that brought Peppercorn A1 Tornado 60163 to life, the T1 Trust is planning for a 2030 commissioning.
Stay tuned!
The locomotives shown above are just a small taste of what's coming down the pike. As we list items from this collection over the next couple of months, they will appear on our website at www.trainz.com/brass, so check back often!